If you're reading this there's a good chance you have 4G, but what you might not know is that the actual speeds you're getting can vary drastically depending on where in the UK you are.
Research carried out by OpenSignal and compiled by Mobiles.co.uk shows that residents of Liverpool are on average enjoying the fastest 4G speeds in the UK, with an average download speed of 21.3Mbps.
That's closely followed by Brighton and Hove with 21.2Mbps, then it starts to drop, with Stoke-on-Trent coming in third with 19.5Mbps, South Hampshire and Sheffield each achieving 16.7Mbps, Coventry at 16.5Mbps, Bristol managing 15.8Mbps, Birmingham at 15.5Mbps, Reading at 14.1Mbps and Bournemouth/Poole clocking in at 13.9Mbps.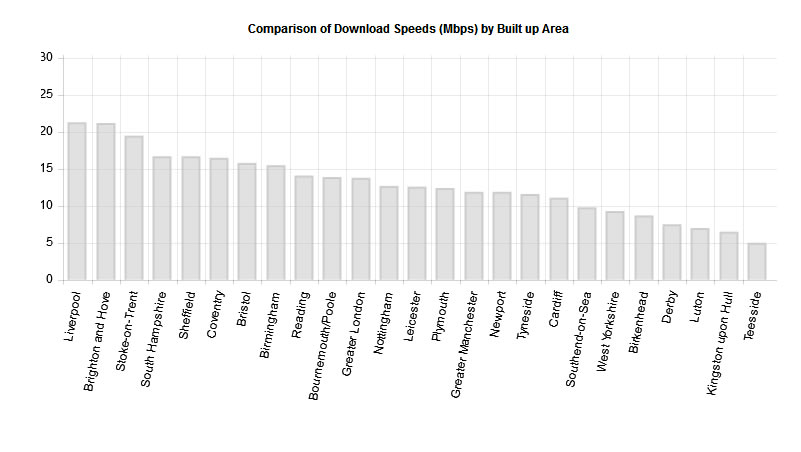 Those are the top ten fastest averages and the differences in speed between the fastest and slowest of them are already dramatic. Plus surprisingly London is nowhere to be seen. Greater London just missed out on the top ten, achieving eleventh place with 13.8Mbps.
That's despite it being the first place to get 4G and home to LTE-A speeds from EE and Vodafone. Its low result is likely down to the sheer number of people trying to connect at once.
But there are places with far lower 4G speeds than even there. At the bottom of the list in 25th place there's Teesside, with average 4G download speeds of just 5Mbps and Kingston upon Hull doesn't fare much better with speeds of 6.5Mbps.
Also near the bottom is Luton, with a 7Mbps average, Derby with 7.5Mbps, Birkenhead with 8.7Mbps, West Yorkshire with 9.3Mbps, Southend-on-Sea with 9.8Mbps and Cardiff with 11.1Mbps.
Filling out the middle of the list there's Nottingham with 12.7Mbps, Leicester with 12.6Mbps, Plymouth with 12.4Mbps, Greater Manchester and Newport with 11.9Mbps each and Tyneside with 11.6Mbps.
So 4G in Liverpool at the top of the list is more than four times faster on average than 4G in Teesside at the bottom.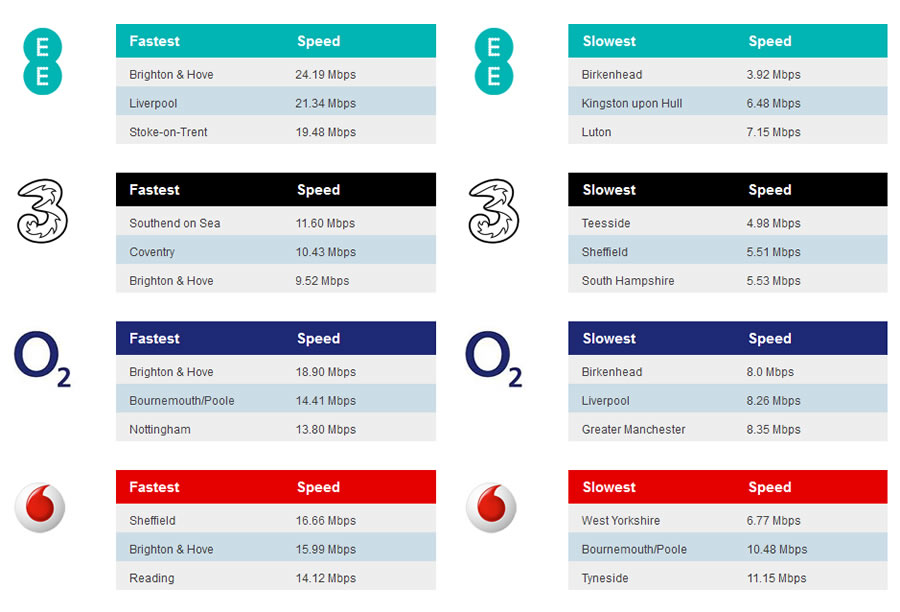 Of course it also depends on what network you're on, as for example despite Liverpool recording the fastest average speeds across all networks that's largely because Liverpool's EE subscribers enjoy average speeds of 21.34Mbps, but if you're on O2 Liverpool is actually one of the worst places to be, with average speeds of just 8.26Mbps.
So when considering a network it's worth factoring in your location and not just looking at whether you can get 4G there but at how fast it's likely to be on each network. Countrywide EE unsurprisingly recorded the fastest results according to the data, but even then there are places where it underperforms, achieving just 3.92Mbps on average in Birkenhead for example, which is a lower average than any other network recorded in any location.
Three meanwhile had notably lower average speeds than the other networks overall, with its fastest being just 11.6Mbps in Southend-on-Sea, but again depending on where you are it might beat the competition.