[caption id="attachment_582" align="aligncenter" width="300"]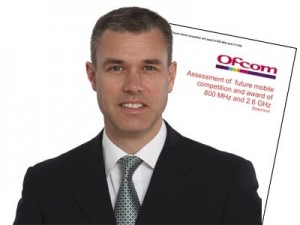 Ofcom's chief claims legal threats over the upcoming 4G auction could be damaging to the economy and consumers.[/caption] The comments from the CEO of Ofcom came after the rules for the 4G auction were published by the regulator. The 4G auction is due to take place in early 2013, followed by licences being awarded in March and the 4G network being rolled out in the summer. The rules were mostly in line with those first mooted in January, with a few tweaks being made – including the reservation of spectrum for a fourth operator. Ofcom also failed to guarantee sub-1GHz, something that Everything Everywhere and Three had been campaigning for.
 Ed Richards ( above ), CEO of Ofcom, said he believed it was 'a racing certainty' that there would be objections to the move, but that he hoped that there would not be court action over the auction rules. He said: 'Certainly there will be disagreements but we are fully prepared for litigation, fully prepared to defend litigation and are content to do so.'
Richards said that the threat of legal action would make it harder for decisions to be made by regulators at the correct time, and that any litigation would not in the interests of either the economy or UK consumers.
'The general point is everything we do is subject to this huge shadow of litigation and that can mean multiple court cases over multiple years.' Richards added.
The proposals – outlined in a report of more 1,000 pages – are currently being studied by the four operators. The report has been cautiously welcomed by both Vodafone and O2, while a spokesman for Three said the upcoming auction was likely to have a 'lasting effect on the choice of services and value available to mobile consumers'. Everything Everywhere's spokesman said the release of the rules represented a 'crucial step' towards bringing increased mobile speeds to the UK although not all the proposals were in the interests of competition or consumers.
PriceWaterhouseCoopers has estimated that the auction may raise around £4bn, far less than the 3G auction – which amassed some £22.5bn. Brian Potterill, director of PwC's Telecom strategy team, said that the reservation of the spectrum for a fourth operator 'could reinforce the scarcity of this spectrum for the three big players, and drive prices much higher than the reserve price.'
MD at CCS Insight, Shaun Collins, said it was 'highly likely' that the fourth bidder would be Three although other rivals include BT, TalkTalk, BSkyB, and Virgin Media. He applauded Ofcom for 'sticking to its guns', adding, 'In reality this update provides few surprises, delivering a few tweaks to the process rather than a large-scale rethink.'