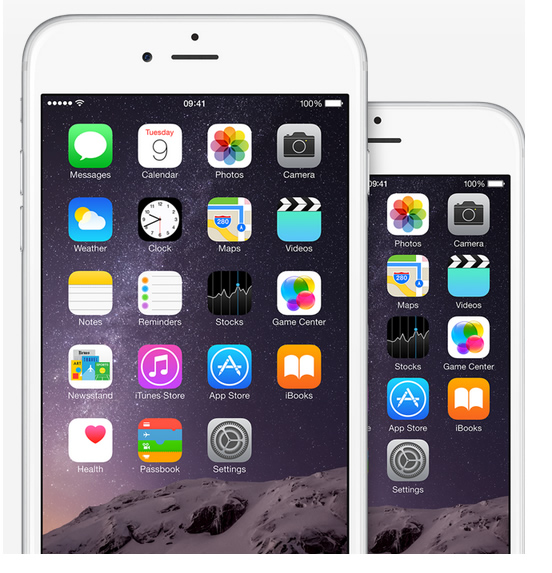 You might think that all 4G phones are made equal and for the most part they have been so far, but the iPhone 6 is one of very few that breaks that trend and that's why it's well worth-considering if you don't want to be left behind as 4G speeds up.
You see the iPhone 6 (and 6 Plus) are among the first 4G phones to support Category 4 LTE with download speeds of up to 150Mbps, while most other 4G smartphones only support Category 3 with speeds of up to roughly 100Mbps.
Right now you'll rarely if ever find that you're even able to download that fast, as for the most part networks don't currently support such high speeds, but that's soon going to change.
Read :  How fast is 4G?
Which networks are speeding up and when?
No prizes for guessing which UK network is closest to delivering a network with speeds of over 100Mbps- it's EE.
While normal 4G can theoretically reach download speeds of 100Mbps average speeds are more like 14Mbps, so we're not likely to see the extra fast iPhone 6 take the lead until 4G LTE-A comes along.
We've already covered 4G LTE-A in depth, but the gist of it is that it's the next generation of 4G which theoretically enables download speeds of up to 300Mbps and EE is already working hard to bring it to London. In fact the network has got it working on a small scale in London's Tech City and by the summer of 2015 it aims to expand its LTE-A coverage to the rest of the London area.
So in other words from next summer anyone who doesn't have an iPhone 6, iPhone 6 Plus or one of a currently very small number of other phones won't be able to take advantage of the fastest mobile data speeds in London and as time goes on you can expect those superfast speeds to make it to more and more places.
Other networks are further behind, in fact as yet none of them have announced their LTE-A plans, but the German branches of Vodafone and O2 have both tested the technology in a lab setting so it's definitely something that they're looking in to.
They're not going to want to be left too far behind so if EE launches its LTE-A service next year we'd be surprised if the other networks waited beyond 2016 to do the same. Still, if you want to stay at the cutting edge you'll probably want to get your iPhone 6 on EE.

What benefits will they see?
The main benefit of being on an iPhone 6 or iPhone 6 Plus rather than another device in future will of course be the increased download and upload speeds. While neither handset supports Category 6 LTE (which allows for speeds of up to 300Mbps), nor does any other device to hit the UK yet and with Category 4 you'll still be able to download most files in a matter of seconds if you're hitting speeds of 150Mbps.
That also means that song and videos will stream without the need to visibly buffer or load and websites will open almost the moment you go to them.
But as well as faster speeds, iPhone 6 users are likely to be among the first to enjoy Voice over LTE (or VoLTE).
We've covered that in depth but in a nutshell it's literally making or receiving calls over 4G. There are numerous advantages to it, including crisper, high-resolution audio, so calls are a lot clearer, as well as the ability to theoretically tie other services in to calls, such as making video calls native to the dialler and even getting video voicemail.
As you can imagine the higher speeds that the iPhone 6 supports will be advantageous when this launches and that along with the fact that the iPhone 6 is sure to be a best-selling handset means that it will probably be one of the first to receive VoLTE capabilities.
As with LTE-A it looks like it will be EE that's first to get the VoLTE ball rolling. The network is carrying out trials in Oxfordshire this year, before a full launch planned for some time next year.
Meanwhile Vodafone has conducted a lab trial, but is yet to announce any commercial plans for the technology and we've heard nothing at all from O2 or Three.
It's also worth mentioning that the iPhone 6 supports 20 LTE bands, which is more than any other smartphone, so whether for VoLTE or normal data use that will come in handy while travelling as you'll be able to make use of bands used by different networks in different parts of the world as part of roaming agreements.
What other phones are 4G future-proof?
While the iPhone 6 and iPhone 6 Plus are among the first handsets to support Category 4 LTE in the UK, they're not quite the only ones. The LG G3 beat them to the punch and the upcoming Samsung Galaxy Note 4 supports it too.
We expect that more and more phones will start to support Category 4 LTE now that some of the most recent flagships do and you never know, we may even see Category 6 support make its way over here before too long, but for now if you're looking to buy a shiny new smartphone you can't get any more future-proofed than with the iPhone 6 or iPhone 6 Plus.
Have you read our iPhone 6 reviews?