[caption id="attachment_5728" align="aligncenter" width="600"]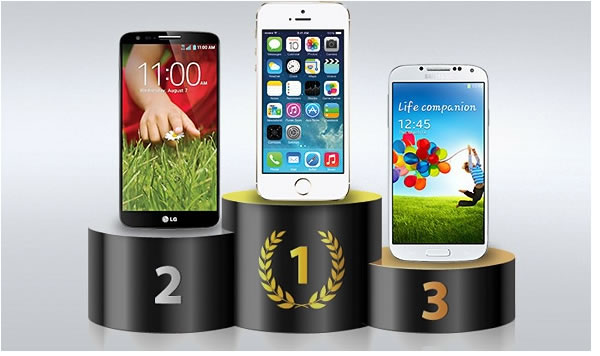 Apple iPhone 5S Excels In Geekmark Benchmark Tests
[/caption]
The Apple iPhone 5S has come out on top of independent tests carried out on 7 of the leading 4G phones currently out there.
The independent tests were conducted by Which magazine and in fact the Apple iPhone 5S proved to be the quickest smartphone ever tested ( benchmarked ). Of course, the iPhone 5S became the world's first smartphone to be powered by a 64 bit processor and this has no doubt helped.
Useful reading : Make The Most Of The iPhone 5S With Superfast 4GEE
Apple's iPhone 5S came top in both categories – single core and multicore. Which used the Geekmark method of carrying out their independent test. The Geekbench software is designed and made by Primate Labs' and is next-generation processor benchmark, with a scoring system that separates single-core and multi-core performance.
The seven 4G phones tested were the Apple iPhone 5s, LG G2, Samsung Galaxy S4, HTC One, Apple iPhone 5c, Galaxy S4 Mini and the HTC One Mini.
The results of the Geekmark benchmark tests conducted by Which are :
| | | |
| --- | --- | --- |
| 4G Phone Tested | Single Core Score | Multi Core Score |
| Apple iPhone 5s | 1410 | 2561 |
| LG G2 | 882 | 2355 |
| Samsung Galaxy S4 | 687 | 1939 |
| HTC One | 643 | 1805 |
| Apple iPhone 5c | 711 | 1281 |
| Samsung Galaxy S4 Mini | 649 | 1135 |
| HTC One Mini | 477 | 880 |
The 64 bit processor on the iPhone 5S is only a dual-core 1.3 GHz processor yet it has outperformed the LG G2's 2.26GHz quad-core processor and the Galaxy S4's 1.9GHz quad-core processor.
At the end of the day does this matter?
In the majority of uses we don't expect that many of us would notice a difference. However, you should notice improved times when loading application and programs but the real benefit is likely to be seen when moving around the smartphone's menu's and when using very intensive gaming applications, streaming videos and when multitasking.