Apple first announced Visual Voicemail way back in 2007, but operator support has been less than useful. Until now, that is, when EE have announced that their 4G customers can finally use the feature.
What, you may ask, is Visual Voicemail ?
Look at your current voicemail setup. "You have 10 messages" your phone tells you, and you dial a number to hear each message in turn, until you find the one you really want to hear from your Significant Other or whoever.
Visual Voicemail is different. It provides a list of callers on your iPhone 5, from which you can choose a caller and select their message to listen to. There's no number to dial and you can even pause the message part way through. All data is free.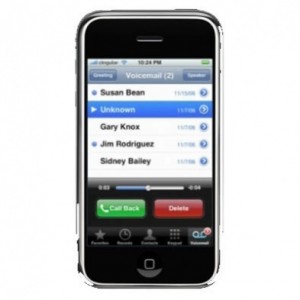 Unfortunately, disappointingly and misleadingly, Visual Voicemail doesn't mean that you can view a recording of your caller as they deliver their message from their bathroom, bedroom or wherever. The "Visual" bit applies to viewing the list only.
However, it's a great feature which makes voicemail less of a chore and allows you to be selective in what you want to hear, when you want to hear it.
Apple users need to be using iOS 6.0 or iOS 6.1 (see our review) in order to access the facility, but as EE only offer the iPhone 5 on 4G this isn't going to be a problem.
EE own both the Orange and T-Mobile networks, and Orange users with an iPhone on iOS 6.0 will be able to use Visual Voicemail soon. T-Mobile however, have given no such undertaking, which is both strange and disappointing. Hopefully, EE's move to support Visual Voicemail will encourage more network providers to offer their own support to the facility, making voicemail user-friendly for the first time. As providers come on board we'll let you know here at 4G.