[caption id="attachment_575" align="aligncenter" width="209"]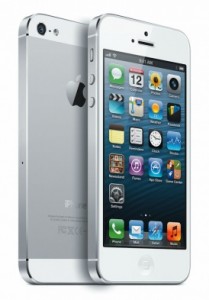 The iPhone 5 is indeed compatible with 4G LTE.[/caption]
The new iPhone 5 has been launched by Apple and 4G is pleased to confirm that it will work with 4G LTE here in the UK. We feel sure that a large majority of current iPhone owners will be looking into buying a new iPhone 5 with 4G connectivity. The only problem is that currently, and for up to the next year, only one mobile operator is ready to roll-out 4G here in the UK.
EE ( Everything Everywhere ) which owns Orange and T-Mobile will offer the iPhone 5 with 4G connectivity on an exclusive basis for anywhere up to a year.
The new iPhone 5 will initially come in black / slate and white / silver and will cost the same as the existing iPhone 4S. Costings will be £499, £599 and £699 for the 16, 32 and 64GB model respectively.
The official date to buy the iPhone 5 4G version in the UK is 21st September and Apple say it is the thinnest smartphone in the world ( 7.6mm deep ) and is twenty percent lighter than the current iPhone 4S. It boasts an anodized aluminium body with diamond cut chamfered edges and glass inlays which makes it stand out.
The iPhone 5's display has been beefed up to 4 inches ( the display is taller not wider ) and now comes with a 4-inch Retina display and comes at 326 pixels per inch. This is 18 percent MORE pixels than on the iPhone 4S for an even better 1136x640 resolution. If that's not enough colour resolution is also boosted by 44 percent over the iPhone 4S.
In terms of speed the iPhone 4G is a "pentaband" compatible smartphone which means it will support 5 frequency spectrums in the UK and these include 4G LTE, DC-HSDPA and dual-band 802.11n Wi-Fi support. This is one mean 4G speed machine.
The iPhone 5 4G comes compatible with the fastest mobile networks in the UK but what about its processing power we ponder. It comes with Apple's own all-new A chip which offers double the CPU and Graphics processing power over the iPhone 4S.
On top of all the above, the iPhone 5 comes loaded with Apple's iOS6 which adds over 200 new user features. These include a new Maps app with Apple-designed cartography, turn-by-turn navigation Ft. Flyover view, improved Facebook integration, ; new Siri features and much much more.
The iSight 8 megapixel camera on the iPhone 5 is now 25 percent smaller and you can shoot up to an impressive 240 degrees. The gyroscope, A6 chip, and Camera app work together to create one seamless, high-resolution panorama up to 28 megapixels. It also comes with a 40 percent faster photo capture, better low-light performance, and improved noise reduction. The iPhone 5's front-facing camera records 720p video and makes Facetime a lot clearer.
As leaked weeks ago, the iPhone 5 comes with a new Lightning connector which is reversible so you can instantly connect to your accessories. The sound has not been overlooked and comes with a new beam-forming, directional microphone system for higher quality sound. Background noise gets better noise canceling technology.