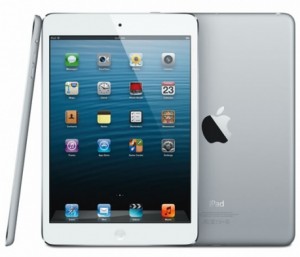 Apple has confirmed the launch of its Apple iPad mini which has a 7.9 inch screen, is 7.2mm in depth and weighs 300 grams. The basic entry level version comes with Wi-Fi only and has 16 Gigabytes of storage memory and costs £269. You can buy the Wi-Fi version on the 2nd November well in time for Xmas.
The iPad mini also comes in a 3G / 4G version and is 4G enabled on the 1800 MHz frequency band which means it will only work at 4G speeds ( five times faster than on 3G ) with mobile operator EE ( Everything Everywhere – which owns Orange and T-Mobile ).
The iPad mini is actually 23% smaller in depth and 53% less in weight than the current iPad. To complete the iPad Mini Wi-Fi only range there is also a 32 Gigabyte version for £349 and a 64 Gigabyte version for £429.
The pricing for iPad Minis which are 3G and 4G compatible comes in at £369 for 16 Gigabytes, £449 for 32 Gigabytes and £529 for 64 Gigabytes. They will be available to buy in Mid-November.
The iPad mini comes with a 7.9-inch Multi-Touch display, 5 Megapixel iSight camera, FaceTime HD and 10 hours of battery life. The processing power comes from a dual-core A5 chip. You can get the iPad mini in white and silver or black and slate.
A fuller breakdown of the iPad mini's specification follows :
Multi-Touch Screen - 7.9-inch LCD 1024 x 768 resolution
Processing power – Apple's A5 dual-core processor
Operating System - iOS 6
Connectivity – Wi-FI, 3G, 4G, Bluetooth 4.0
Cameras - 5megapixel iSight, autofocus 1080p video, secondary camera : 1.2-megapixel
On-board memory -16GB, 32GB, 64GB
Battery life - 10 hours mobile internet time
Dimensions: 200 x 134.7 x 7.2mm
Weight: 308g
Just to recap the Wi-Fi version can be bought on 2nd November, and the 3G/4G enabled iPad mini coming in the middle of November. Pricing for the Wi-Fi only version is £269 for 16GB version, £340 for 32GB version and £429 for 64GB version . The iPad Mini 3G / 4G version starts at £369 for 16GB version, £449 for 32GB version and £529 for 64GB version.