[caption id="attachment_571" align="aligncenter" width="300"]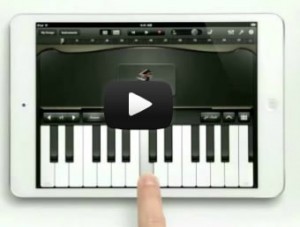 Two iPad mini videos appear.[/caption]
We saw the iPad mini officially launched this week and learnt that the iPad mini Wi-Fi version will be ready to buy on the 2nd November with the 3G / 4G version ready to buy in the Middle of November.
Two videos have appeared which show the iPad and the iPad mini alongside each other whilst each has the Piano application running and being played. The point of this video is to show the size difference and to confirm that the iPad mini supports all the same Apps as the iPad itself.
The fact that the iPad mini is compatible with every iPad App must be seen as a key selling point to ensure people realise they will get the full Apple iPad experience with the iPad mini, albeit on a slightly smaller scale.
The next video shows off the features of "Smart Cover" for the iPad mini which of course is just a smaller version of the one for the iPad. The Smart Cover has the benefit of saving your battery life by only using power when the screen is exposed. Additionally, it doubles as a stand for the iPad mini in either landscape or portrait modes.
The Smart Cover costs £35 and comes in either white, black, blue, pink and green.