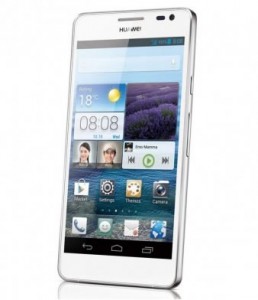 Huawei officially confirmed its latest Android flagship smartphone as the Huawei Ascend D2 which will directly compete for phone sales alongside the iPhone 5 and the Samsung Galaxy S3. The new Ascend D2 will replace the Huawei Ascend D1 ( we never had this one in the UK ). We first picked up on the
Huawei Ascend D2
back in December - more here.
4G phone
s are becoming more and more common and the Huawei Ascend D2 comes with 4G LTE compatibility and will be ready to buy in China and Japan later this month. The big question is will we see it in the UK ? This is not known at the current time but I don't see a reason why we won't and its just been announced that O2 UK will be stocking the Huawei Ascend W1 so this adds more weight to the Huawei Ascend D2 being sold in the UK.
Huawei Ascend D2 – its display is a notch up
The Huawei Ascend D2 arrives with a 5 inch FHD IPS+ Super Retina touch-screen display with a much higher PPI ( Pixels Per Inch ) than the iPhone 5 ( 443 for the Ascend D2 and 326 for the iPhone 5 ). The Ascend D2's display resolution is 1920 x 1080 pixels and offers full HD capabilities, has scratch resistant Gorilla Glass and the smartphone itself is water and dust resistant. The body is made of stainless steel and the phone will launch in Pure White and Crystal Blue. There will be another exact version of the Huawei Ascend D2 but with a 4.7 inch display screen.
Huawei Ascend D2 – its speed and power
The processor is manufactured by Huawei themselves and is the K3V2 1.5 GHz quad-core processor with 2GB of RAM and the beast of a battery is a 3000mAh which maintains a battery standby time of 2 days by incorporating Huawei's "QPC" feature. This is a battery saving feature which turns off the phone's transmitter when not in use and  also features ADRX technology to reduce battery consumption by 20%.
Huawei Ascend D2 – the main camera and operating system
The main camera is a 13 megapixel camera and includes a bright f2.2 lens HDR mode and some stand-out features such as high ISO sensitivity levels and manual colour temperature adjustment. The Huawei Ascend D2 will come with Android Jelly Bean ( 4.1. ) and on top of this will run Huawei's Emotion UI which is used on all of Huawei's smartphones. That's it for now.