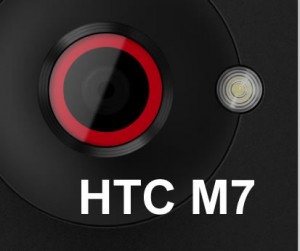 HTC seem to be the company most likely to launch the most new 4G phones in the first quarter of 2013. We know of two HTC 4G phones which will almost certainly launch at either CES in Las Vegas next week or at Mobile World Congress at Barcelona in February. But expect more.
A number of sources are now suggesting that at least one of these – the HTC M7 – will be launched at the CES Exhibition next week. As far as we know only a partial photo has so far been seen of the HTC M7 and this is the one we spotted on HTC's website months ago ( as above ).
HTC M7 – what we know to-date
The news that the HTC M7 4G phone will be officially unveiled at next week's CES shows stems from a leak via Football4PDA who are also saying that the HTC M7 may have touchscreen buttons as opposed to physical hardware ones.
Other leaks, previously covered by 4G.co.uk, have unofficially revealed the HTC M7's specification coming with a  4.7 inch touch-screen having a PPI of 468 ( screen resolution of 1920 x 1080 pixels ). The display also incorporates SoLux technology which produces better outdoor representation, improved viewing angles and colour representation.
The 4G enabled HTC M7 comes with a 1.7 Ghz quad-core Snapdragon processor, 2GB of RAM and 32GB of on-board memory. Other specification details yet to be confirmed expected as all the rest are is that it will come with a 13 megapixel camera, Beats Audio technology and run on Android Jelly Bean ( 4.1 ). More details on the HTC M7 here.
The other two HTC 4G phones we are currently aware of are the HTC One SV and the HTC Deluxe DLX.
HTC Deluxe DLX – what we know to-date
The HTC Deluxe DLX ( previously known as the HTC Butterfly ) is also believed to come fully compatible with 4G in the UK and although it has strongly been suggested that this will be sold in the U.S. we see no reason why it won't pop up in the UK. We just need to wait a few more days to see if HTC officially announce this at CES. Meanwhile, all the specification details we have gleaned for the HTC Deluxe DLX can be viewed here.
HTC One SV – is on sale now ( well sort of )
The HTC One SV is actually on sale as a 4G phone with a number of UK retailers. EE the only operator offering 4G phones and tablets in the UK has not yet added this to its portfolio but we note that retailer Unlocked Mobiles is currently selling it.
The reason why EE have not yet stocked the HTC One SV is that it's a mid-range 4G compatible smartphone whereas the HTC One XL which they do currently stock has a much higher specification more associated with a high-end 4G phone and anyway 4G.co.uk think EE would be much more interested in stocking the HTC M7 and the HTC Deluxe DLX than the mid-range HTC One SV.
Meanwhile, all the specification details we have gleaned for the HTC One SV can be viewed here.
But hey, the HTC One SV will still offer 4G download speeds of five times greater than 3G and to get this you would need to buy an unlocked HTC One SV from the retailer and take out a 4G SIM ONLY plan from 4G operator EE to get the 4GEE mobile network services.
The HTC One SV comes with a smaller 4.3inch S-LCD2 touchscreen  ( 480 x 800 display resolution ), Android 4.0 operating system  ( Ice Cream Sandwich ), a 1.2GHz dual-core processor, a 5 megapixel main camera, Beats Audio technology and more. The HTC One SV comes unlocked for £330 and the cheapest 4GEE SIM ONLY plan ( which gets you a 4G SIM card ) starts at £21 a month for a miserly 500MB of 4G data allowance.
4G.co.uk will be reporting on all the 4G phone and tablet news from CES in Las Vegas next week which we hope will include the unveiling of the HTC M7.