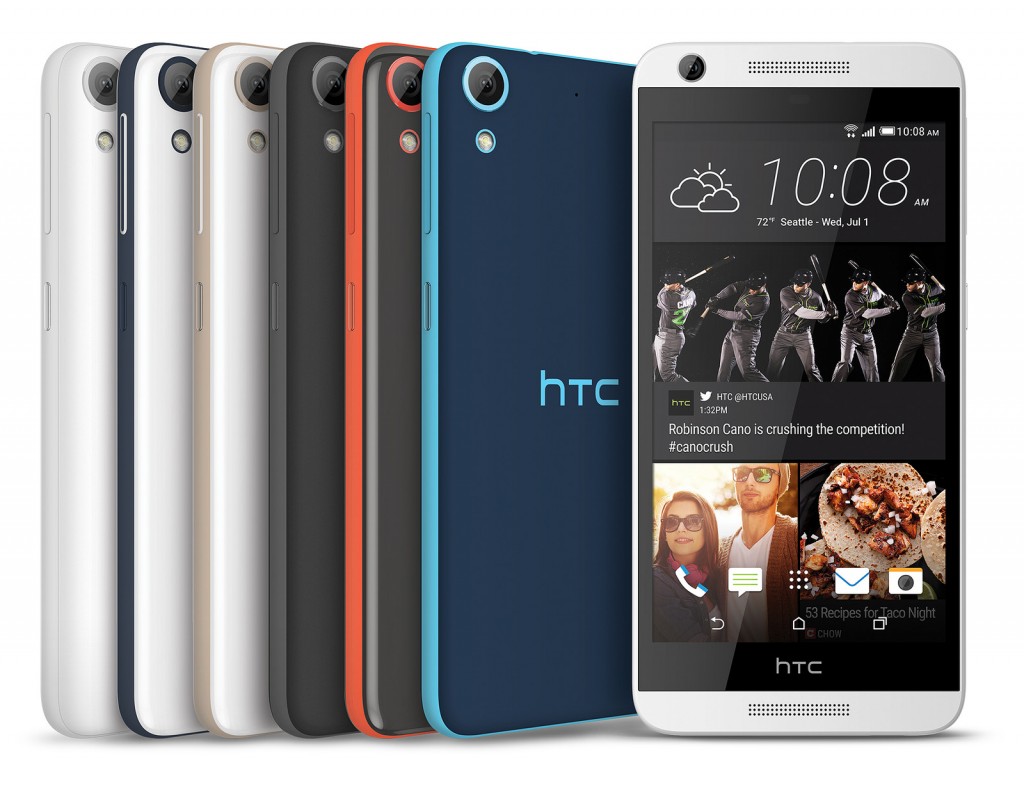 There are any number of affordable smartphones these days, but with an eye-catching customisable design and surprisingly impressive specs the HTC Desire 626 could have what it takes to stand out. That is, if the price is right and the phone lives up to its specs list. Read on for our first impressions of HTC's colourful new handset.
Screen
The HTC Desire 626 has a 5.0-inch 720 x 1280 display with a pixel density of 294 pixels per inch. That's a reasonable size and resolution for a budget phone, though no match for the QHD behemoths we're starting to see at the upper end of the market.
Still, it seems to be a fairly good quality display with a decent amount of brightness and solid viewing angles.
Design
The HTC Desire 626's design is one of its high points, as while it's plastic it has an attractive two-tone colour scheme. The front and back are in one colour while the edges are in another and there are a range of different options to choose from, so you can customise the phone to your liking.
It's fairly slim and light too at 8.19mm thick and 135g and while more premium materials would be preferable it's a nice looking phone for a budget model.
Power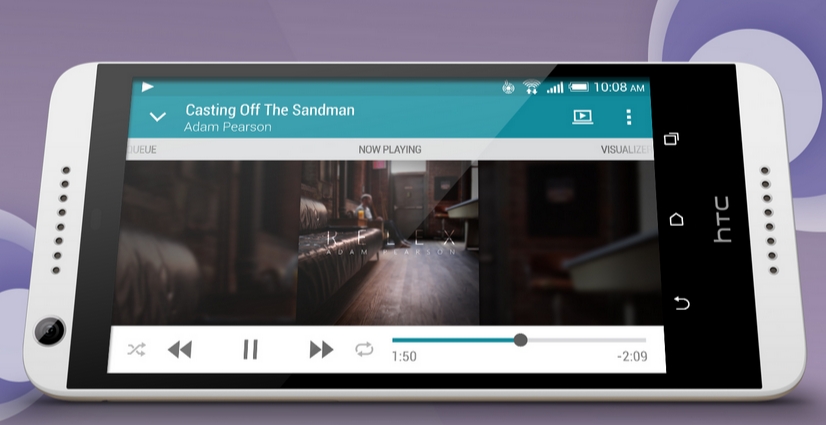 There's a 1.2GHz quad-core Snapdragon 410 processor at the heart of the HTC Desire 626. That's become a fairly standard choice for low end handsets, but it's 64-bit and actually gives it enough power for fairly speedy performance.
That's undoubtedly helped by the 2GB of RAM HTC has included, which is quite a generous amount when many lower end phones only come with 1GB, though the always popular Moto G 3rd gen comes with 2GB as well, so the HTC Desire 626 could face some significant competition from that.
Camera
The HTC Desire 626 does pretty well for photography. It has a 13 megapixel snapper on the back and a 5 megapixel one on the front. That rear camera also has a dual-LED flash, so colours are replicated more naturally when using it.
It doesn't seem like the best camera we've ever come across, but assuming the phone is priced around £200-£250 as we're expecting it should be fairly competitive, as both snappers can take sharp, detailed shots.
Features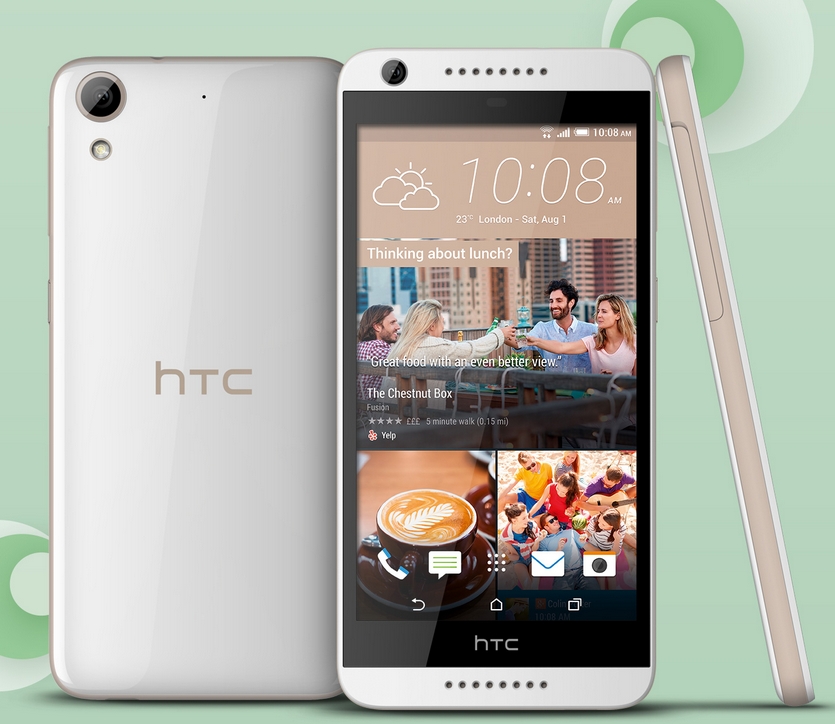 Beyond its stylish design and decent specs the HTC Desire 626 is light on stand out features, but that tends to be the case with affordable handsets. It does however run HTC Sense on top of Android, which is one of the slicker and more stylish manufacturer UI's. It also benefits from BlinkFeed, allowing you to see all the news and social media updates you're interested in on a single screen.
Plus it supports HTC Themes, which allows you to totally change the look of the interface to match a photo of your choice. Everything can be changed, right down to the icons, to really make the phone your own.
Battery life, memory and connectivity
The HTC Desire 626 has a 2,000 mAh battery, which promises up to 22 hours of talk time or up to 790 hours of standby time, which would translate to above average life, though still make for a phone that will probably need charging every night if it gets any more than light use.
The phone has 16GB of built in storage, which isn't a huge amount but it's not small enough that you'll immediately need to invest in a microSD card either. Fortunately that is still an option if and when you feel the need, as the HTC Desire 626 has a slot which supports cards of up to a whopping 512GB.
Connectivity options include Wi-Fi, 3G, Bluetooth 4.1 and 4G. It's always nice to see 4G included on more affordable phones, as it still isn't a guaranteed feature. Note however that there's no NFC.
That's not a big deal for most people right now, but with Android Pay around the corner contactless payments on smartphones could really take off and the HTC Desire 626 will be left out.
Early verdict
The HTC Desire 626 makes a fairly strong first impression. It manages to look good despite being plastic, it has a high power camera, promising battery life, a reasonable screen and with 2GB of RAM it should also be fairly powerful, despite having just a Snapdragon 410 processor.
But while it looks good it doesn't necessarily look any better overall than some other affordable phones, such as the Moto G 3rd gen, the EE Harrier or even the OnePlus 2, which has flagship specs and can be picked up for under £250.
A lot will ride on the HTC Desire 626's exact price, which is yet to be confirmed. If the price is right then it could be a colourful alternative to the Moto G 3rd gen, but if it's too expensive it could become harder to justify.
Come back soon and find out more about the HTC Desire 626.
HTC Desire 626 Specification
Dimensions: 146.9 x 70.9 x 8.19mm Weight: 135g Screen size: 5.0" (720 x 1280) Screen Resolution: 720 x 1280 display resolution Pixels Per Inch (PPI): 294 Processor: Quad-core application processor RAM: 2GB On-board Memory: 16GB (microSD card slot) Camera: 13MP (rear) 5MP (front-facing) Operating system: Android KitKat 3G / 4G LTE: Yes / Yes Bluetooth / NFC: Yes / No Battery capacity: 2000mAh Colours: Various Launch Date: September 10th Price: TBC