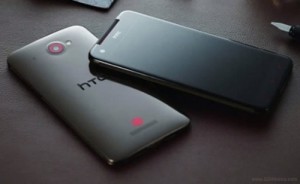 There is already some history about the HTC Deluxe DLX well sort of. It starts when HTC announced the HTC Butterfly ( renamed the HTC Droid DNA in the US ) and everywhere else as the HTC Deluxe ( DLX ).
Our friends over at GSMArena have managed to get some photos of the HTC Deluxe DLX 4G phone and these are shown here. The photos indicate that the DLX will come in at least three colours – White, Black and Brown.
Surprisingly, the source of the link claims that HTC will reveal all about the HTC Deluxe DLX on December 6th with more coming at the annual CES in Las Vegas in January and at the Mobile World Congress in Barcelona in February 2013.
The HTC Deluxe is rumoured to come with a 5 inch Super LCD touch screen display with a 1920 x 1080 pixel resolution and a PPi of 440 which is would be one of the highest so far seen. The Samsung Galaxy S4 4G phone is rumoured to beat this with a 441 PPI.
The HTC Deluxe versions for both the US and Japan come 4G enabled so we here in the UK are likely to get the 4G enabled the HTC Deluxe ( DLX ). The DLX comes heavily featured with a quad-core 1.5 GHz processor, 16GB of on-board memory and 2GB of RAM. The main camera is rumoured to be at least 8 megapixels.
HTC has one 4G phone on sale in the UK ( the HTC ONE XL ) with 4G mobile operator EE so we see no reason why the  HTC Deluxe ( DLX ) won't also be on its way to EE. 4G will track the latest on the HTC Deluxe ( DLX ) 4G phone and post updates as soon as we here.