[caption id="attachment_530" align="aligncenter" width="282"]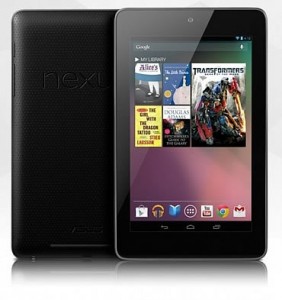 Google Nexus 7[/caption]
The Google Nexus 7 is about to move from great to greater as Google work with Asus to produce a new Nexus 7 with  a full HD display.
Yes, they appear to be working on a full 1080p HD 7 inch touch screen, which pixel for pixel will put everything else in the shade, including the iPad!
We've heard that the new Nexus 7 will launch in May this year, and that amazingly the price point will remain the same. We love the Nexus 7 and it has always represented great value for money, but to get a full HD display on an already outstanding product for under £200 means that this is going to appear on everyone's birthday list. Unless of course you've already shelled out £90 more for the iPad mini.
What else do we know about the Google Nexus 7 ?
Not too much, to be honest. We expect the processor and RAM to be given a boost to cope with the new screen, and we're already pretty sure that the Nexus 7 will launch with an improved version of Android's Jelly Bean.  Android's new Key Lime Pie remains unreleased so far and an early release would be a massive surprise, so don't expect it.
The official unveiling of the Google Nexus 7 is expected to be on 15th May at the Google I/O event, which will take place from May 15-17 at The Moscone Center West in San Francisco. As always, as we get more news we'll put it here, so keep looking.