[caption id="attachment_2738" align="aligncenter" width="300"]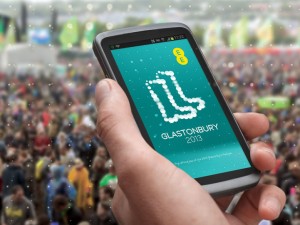 EE Launch Glastonbury 2013 App[/caption]
Heading to Glastonbury later this month? Then you might want to check out the official Glastonbury 2013 mobile app, developed by EE and available now for iOS and Android devices.
EE, the official communications and technology partner for Glastonbury 2013, describe the app as "the ultimate digital guide to the world's most loved festival" and it's available to download for free whatever network you're on - so you don't have to be on EE to use it.
The headline feature is live streams of performances, which will probably mostly be of benefit to people who aren't going to make it to the festival, but if you're at the festival and you'd rather watch a set from the comfort of your tent rather venturing into the mud then that's an option too. The streams will first start to become available on Friday the 28th of June and feeds will be taken from the BBC Glastonbury website, encompassing coverage of the Pyramid, Other, Park, John Peel, West Holts and BBC Introducing stages.
As well as live feeds there is also a selection of tools for festival goers. There's a 'schedule' section which includes set times for hundreds of artists performing across the festival. But there's more to it than that, as users can also create their own schedule of acts that they want to see. For each act that you're interested in you can create a reminder and the app will even flag any clashes.
There will also be biographies of certain acts built into the schedule and you'll be able to listen to song clips from many of the artists to help you decide if you want to see an act that you've perhaps never heard of before. Plus the whole thing is integrated with Facebook, letting you share your personalised schedule with friends.
There's also a map of the festival site on the app. This uses GPS to find your location and should make navigating the notoriously huge site a breeze as it includes details of all the stages, locations of toilets, campsites, bars, car parks and information points and even lets you put your own custom map pins on it.
Finally there's a 'news' section which will bring line up updates, announcements and any other important information to users in the run up to the festival.
Spencer McHugh, Brand Director at EE commented:
"Our on site 4G network will make it even easier for Glastonbury goers to access all the exciting digital content available through the app this year. The 2013 app builds on everything we've learnt over many years of working with the Festival under Orange to offer some fantastic new features and content including linking up with the BBC's on site coverage. Whether you're at the Festival and can't get to the stage on time or relaxing in your garden at home, this function will allow users to enjoy live Festival performances direct from the app for the first time."
EE have also announced that they will have free recharge tents dotted across the festival site which will allow people to recharge their phone for free regardless of what network they're on.