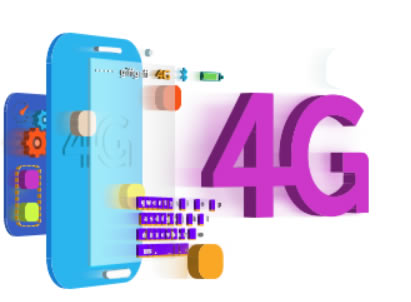 GiffGaff's approach to 4G has been a little different to most networks, as it's been in an open trial period since April, allowing most members to try it out and give feedback which will then affect exactly what's offered when it properly launches.
We explained the ins and outs of the trial back when it was announced several months ago and it's still in progress now, but GiffGaff has provided an update on how it's going.
The overriding thing to take away is that it seems to be going well and while GiffGaff was originally planning to have closed registration for it by this point, the network has instead extended it to allow anyone to join the trial right up until its end date, which is currently slated for October 31st, as the trial is proving popular and more people want to try it out. The only caveat to that is that you need to have joined GiffGaff before the 30th of June.
As for the data that's been gathered so far, GiffGaff has found that while 51% of users were worried that they'd exceed their data limits with 4G (as currently you can only get up to 2GB of 4G data with GiffGaff), in fact only 1 in 7 did so in the first month. Though whether that's because people were being cautious with their data use or actually didn't need as much as they expected is unclear. However GiffGaff is looking at options for those who do exceed their allowance.
The network also found that 97% of people had no problems getting set up with 4G, but for the small number of people who do have issues it's looking at improving its support information.
GiffGaff is also working on implementing a detailed and up to date 4G coverage map, to address member's coverage concerns, while it says that user's satisfaction or lack thereof with the speed of 4G will play a big part in when it properly launches the service.
Finally the network found that were the trial to end tomorrow just over half of the participants claimed they would stick with 4G, with the majority expressing interest in the £12 goodybag which includes 2GB of data.
Over half isn't bad, especially considering that the network plans to make improvements before launch which will hopefully bring that number up. In the meantime if you're a GiffGaff member and want to get in on the trial it's easy to do.
You'll likely receive an email invite from the network and if not you should soon see the option to join via your dashboard on the site, again though you need to have joined the network before the 30th of June and of course you'll also need a 4G phone and SIM card.