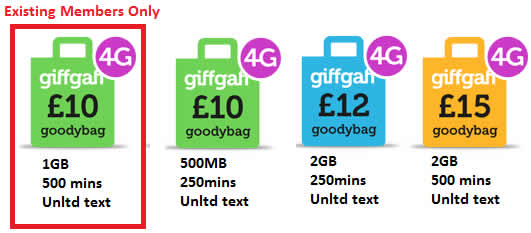 GiffGaff to enter the battle for 4G customers.
GiffGaff has long been one of the more popular MVNO's, thanks to its low pricing, good coverage and range of bundles.
Now it's about to get even better though as from early April 4G will be available on the network.
Initially there will be three 'goodybags' available. For £10 per month you'll get 500MB of 4G data, 250 minutes and unlimited texts. Spend £12 and your monthly data allowance shoots all the way up to 2GB, along with the same 250 minutes and unlimited texts and for £15 you get your minutes boosted up to 500, along with 2GB of data and unlimited texts.
So for the time being 2GB is the most data you can get, which means GiffGaff is definitely not the place to go if you're a power user, as Three offers unlimited data, EE offers up to 50GB and even Vodafone and O2 give users up to 13 or 8GB respectively.
Unlike Tesco Mobile and Three, GiffGaff's 4G service is also more expensive than its 3G one, but as a bonus for existing subscribers there will temporarily be a fourth bundle available which matches the £10 3G goodybag by giving you 1GB of 4G data, 500 minutes and unlimited texts.
That goodybag will be available until the 31st of October for all existing GiffGaff subscribers and anyone else who signs up between now and the day of the 4G launch (which has yet to be confirmed, but should be in early April).
The initial launch of 4G on GiffGaff is considered to be a trial. That doesn't meant that you won't be able to participate, but it does mean that the goodybags on offer may change after a few months, depending on the feedback GiffGaff gets.
If you're an existing GiffGaff member and aren't interested in 4G, fear not because the 3G goodybags aren't going anywhere.
GiffGaff runs off the O2 network and as such it enjoys good 2G and 3G signal. On the other hand O2 doesn't have the most wide reaching of 4G networks yet, so that will obviously affect GiffGaff.
Currently O2's 4G service is available in 15 towns, specifically Birmingham, Bradford, Brighton, Coventry, Edinburgh, Glasgow, Leeds, Leicester, Liverpool, London, Manchester, Newcastle, Nottingham, Sheffield and St Albans, along with 160 surrounding towns, which altogether amounts to 31% of the UK population.
Presumably GiffGaff will have full access to O2's network, so once its 4G service launches you can expect to be able to use it in those locations. Going forward of course O2's coverage will grow and GiffGaffs will grow with it.
If you're already with GiffGaff there are several things you'll need to do to get ready for 4G, aside from waiting for the launch and buying a 4G goodybag. You'll also need to make sure you have a 4G SIM card. That's easy to do, just take a look at the back and if it says '4Ggg' then it's a 4G card. If it doesn't you'll have to order a new one from GiffGaff.
You'll also need to make sure you have a 4G ready phone. Many recent phones are 4G ready so there's every chance that you already have one. If not GiffGaff itself sells an ever growing number of 4G handset. Currently there are 14 available from the network, including high end phones like the LG G2 and lower end ones like the Nokia Lumia 625, but equally you can buy an unlocked 4G handset from anywhere else and it will work with your GiffGaff SIM card.
Right now there aren't that many GiffGaff customers with a 4G ready handset. While the network hasn't released specific numbers it claims that it expects numbers to grow from "relatively low levels" to around a quarter of all members by the end of the year. The network also hasn't released any figures recently on exactly how many members it has, but it had exceeded 1 million members by the end of last year, so we could be looking at around 250,000 GiffGaff members with 4G handsets by the end of the year.
Of course not all of them will necessarily switch to a 4G tariff, so the actual number of people using GiffGaff's 4G network could be quite low for the foreseeable future, but as O2's 4G network continues to expand and grow so too will GiffGaffs.