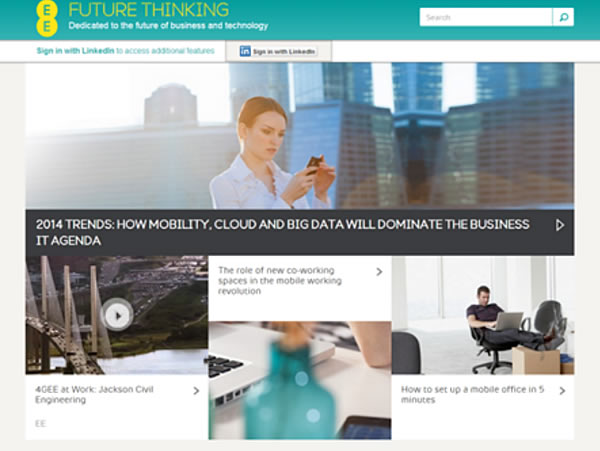 As the pioneer of 4G in the UK you could certainly say that EE was a forward thinking company, but now it wants to inspire other professionals, entrepreneurs and innovators to think ahead too. In order to do this it's teamed up with LinkedIn to create a website called Future Thinking.
The site is a content hub which allows users to login with their LinkedIn credentials and receive personalised editorial content in the form of articles, videos, case studies, expert comments and blog posts. With the idea being that by pulling data from a users LinkedIn profile the site will be able to ensure that it only shows them relevant content.
But it's not just a one-way transfer of information, as users can also post comments, 'like' things and share them for their connections to see, allowing for discussion and shared ideas.
Even Olaf Swantee, the CEO of EE, is getting involved as he will be posting commentary of his own on the site and encouraging users to converse with one another in the 'Future Thinking group'.
Ultimately the sites goal seems to be a noble one, which Josh Graff, director of LinkedIn Marketing Solutions EMEA put best: "EE's new content hub is a great example of a brand delivering real value to its audience through relevant content. In a technology-dominated economy, EE has created a single source of insights into the future of technology for business owners and IT professionals, helping them prepare for and succeed in the future."
Despite being an EE endeavour the content isn't limited to stories about mobile and 4G, but at time of writing there's certainly a lot of that and with Swantee himself set to contribute that's likely to continue to be the case, so not only will it help businesses adapt and thrive in an ever more mobile world by presenting new ideas to them, but it's also entirely possible that the mobile visionaries of the future could find the inspiration they need from Future Thinking, whether that means ushering in 4G's successor or something else entirely.
And while you don't have to be an EE customer to access the site, the networks extensive 4G coverage will certainly make it the optimal place to experience the site on the go and with its currently quite mobile focussed content it may aid the growth of 4G and 4GEE in particular in the UK.
Looking to learn more about 4G in the UK?