[caption id="attachment_3408" align="aligncenter" width="300"]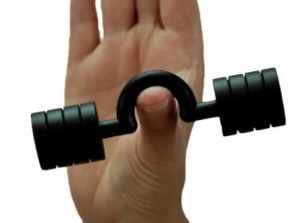 Fit For 4G - O2 shows us they are nearly ready to launch 4G.[/caption]
O2 have just released their first advert for 4G and it features a training montage that Rocky himself would be proud of.
The light-hearted advert shows two thumbs (complete with drawn on faces and wigs) training up for a 4G showdown. Said training encompasses everything from climbing stairs to lifting weights, running on a tread mill and even punching chicken nuggets in a meat locker.
The two thumbs have different coloured sweat bands - one is decked out in blue (O2's signature colour) and the other in red, which could possibly be a reference to Vodafone. Either way, the blue thumb wins the fight, coming out fit for 4G.
You can check out the advert for yourself in all of its ridiculous glory below.
As you can see, it's very silly, but while it might be light hearted the fact that O2 are now properly advertising 4G suggests that they'll be launching it very soon now, perhaps before Vodafone launch their 4G network and almost certainly before Three do. O2 are also clearly serious about winning the 4G fight, as demonstrated by the fact that the blue thumb won the match in the advert.
But it's not just O2's thumbs that are getting fit for 4G, as the network has also released a couple of training videos to help you prepare for the epic speed of their 4G service. One of these features some vaguely sensible hand stretching exercises while the other features a slightly silly 'thumbell' for strengthening your thumb.
If you feel the need to get fit for 4G on O2 then now's the time, because it looks like the wait is nearly over and EE will soon have some Rocky inspired competition.