[caption id="attachment_2499" align="aligncenter" width="286"]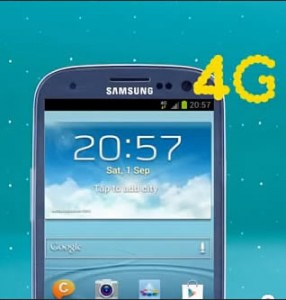 EE continue to roll out 4G[/caption]
EE's national 4G domination almost seems unstoppable right now, because not only are they increasing their coverage at a steady rate, with no competition there's also nothing to stand in their way. That's not necessarily a good thing though, not for customers anyway, who will enjoy more choice and in all likelihood more competitive pricing once other networks launch 4G services and start rolling out 4G phones and 4G tablets.
With any luck the wait for alternative options won't go on for too much longer, as both Vodafone and O2 aim to have live 4G networks by the end of the summer, while Three are trailing a little further behind with a projected 4G launch in the fourth quarter of the year.
In the meantime at least 4GEE shouldn't be an unappealing option. EE are working hard to increase the speed and availability of their service, both rolling it out in new towns and cities and strengthening it in places where it's already available by activating more 4G masts to improve the network density. If there was any temptation to sit on their hands, knowing that they already had the lead, they've thankfully resisted it, instead providing an impressive and fast growing 4G network which Vodafone, O2 and Three will have to work hard to catch up to.
In a recent update EE have announced that they've made 4G available in thirteen more towns and cities across the UK, bringing the total number of towns and cities receiving 4GEE coverage up to fifty. That's a substantial milestone, particularly given that the network was only launched five months prior.
But it's not the only milestone, as those fifty towns and cities also equates to roughly fifty percent of the UK population. EE aim to be able to provide coverage to 70% of the UK population by the end of the year and to 98% of the UK population by the end of next year, they're currently ahead of schedule too, so there's no reason to think they won't achieve their goals, especially as they'll have even more incentive to rapidly increase coverage once O2, Vodafone and Three enter the fray in a few months.
The thirteen most recent towns to receive 4GEE coverage are Bradford, Bingley, Doncaster, Dudley, Harpenden, Leicester, Lichfield, Loughborough, Luton, Reading, Shipley, St Albans and West Bromwich.
In all 4GEE is currently available in Amersham, Barnsley, Belfast, Bingley, Birmingham, Bolton, Bradford , Bristol, Cardiff, Chelmsford, Chorley, Coventry, Derby, Doncaster, Dudley, Edinburgh, Glasgow, Harpenden, Hemel Hempstead, Hull, Leeds, Leicester, Lichfield, Liverpool, London, Loughborough, Luton, Maidenhead, Manchester, Newbury, Newcastle, Newport, Nottingham, Preston, Reading, Rotherham, Sheffield, Shipley, Slough, Southampton, Southend-on-Sea, St Albans, Stockport, Sunderland, Sutton Coldfield, Telford, Walsall, Watford, West Bromwich and Wolverhampton.
4GEE has recorded average speeds of more than 16Mbps, allowing mobile customers to access the internet and download files faster than ever, and if it's not available in your town yet at this rate it's bound to be soon.