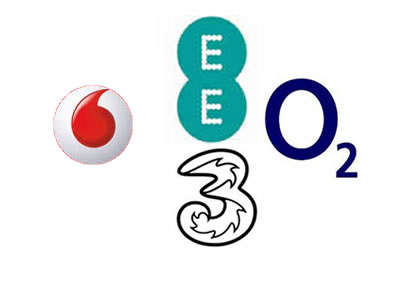 EE, Vodafone, O2 and Three all have a live 4G network now, but there are vast differences in the pricing, coverage and overall experience. EE has gone from strength to strength but Three's aggressive pricing could give it something to worry about, while Vodafone and O2 have been quietly growing and improving their services.
So how do the four networks 4G services stack up today? Read on for an in-depth analysis.
Current coverage
When it comes to coverage EE is far and away the leader of the pack. No surprise there though as the network launched its 4G service long before any other UK network. Currently over 70% of the UK population has access to 4G on EE.
More specifically 4GEE is available in 175 UK towns and cities which can be seen here.
4G from EE is also available in Heathrow, Gatwick, Stansted, Luton, City, Birmingham, Manchester, Edinburgh, Glasgow, Newcastle, Liverpool John Lennon, Bristol, Nottingham East Midlands, Leeds-Bradford, Belfast International, George Best Belfast City, Robin Hood and Blackpool airports.
Vodafone has so far brought 4G to 36% of the UK population, so roughly half as much as EE. Currently its 4G service is available in 82 towns and cities with a population of above 10,000, the full list is available here. Its 4G service is also available in 27 locations with a population of below 10,000. In total around 500,000 Vodafone customers currently have 4G.
O2's 4G coverage is similar. It's achieved 31% population coverage and in total it's available in 15 cities as well as over 160 surrounding towns.
Three currently has a partially live 4G in network in 36 large towns and cities across the UK, so its some way behind the other networks. However all eight million of its customers are on a 4G contract, while 1.7 million of them are actually using a 4G device.
Speed
All four networks claim that their standard 4G service is roughly five times the speed of standard 3G, however while O2, Vodafone and Three only have a 'standard' 4G service, EE has also launched double-speed 4G in 20 locations (Belfast, Birmingham, Bristol, Cardiff, Derby, Edinburgh, Glasgow, Leeds, Liverpool, London, Manchester, Newcastle, Nottingham, Sheffield, Southampton, Sunderland, Sutton Coldfield, Walsall, West Bromwich and Wolverhampton), so if you live in any of those places you can expect EE's 4G to be substantially faster.
RootMetrics has run thousands of tests on each networks data speeds and performance and unsurprisingly found that EE comes out on top UK wide, though that will in part be because of its double speed service. It scored a total of 81.0 for mobile internet performance in RootMetrics evaluation.
Of the other networks Three's mobile internet is the second best with a score of 67.1, which again makes sense because in areas where there's no 4G Three is able to fall back on its Ultrafast network.
O2 came in Third place with a score of 48.4 and Vodafone came last with just 30.2.
Tariffs
Tariffs can be hard to compare as there are so many different options, but some things are clear. For a start Three is the best for data as it's the only network with unlimited 4G tariffs. EE is second best as you can get up to 50GB of data, Vodafone comes third with 13GB and O2 only gives customers up to 8GB.
In terms of pricing Three is the best again, as its 4G tariffs cost the same as its 3G ones, so for example you can get a SIM only plan from Three with unlimited data, 200 minutes and 5000 texts for just £12.90 per month.
EE has SIM only plans from £16 per month which come with unlimited texts and minutes but just 500MB of data. If you want a lot of data on EE you'll really have to shell out. For example to get 20GB on SIM only you're looking at £61 per month, but then EE has a faster, wider reaching network than its competitors.
Vodafone charges £21 per month for 1GB of 4G data, along with unlimited calls and texts and O2 charges £19 for the same.
2014 plans
EE has big plans for the rest of the year. The network has just launched 4G data bundles for travellers in France and Spain and plans to extend that to the USA, Italy, Germany, Switzerland and the Netherlands by summer.
The network is also working on LTE-A (or LTE Advanced), which promises speeds of around four times standard 4G. Currently this is only available as a trial in London's Tech City, but EE is planning on bringing it to the whole of London.
By the end of 2014 EE aims to have brought 4G coverage to 98% of the UK population, which would mean it rivals 3G for availability. The network is also on target to accrue 5 million 4G customers by the end of the year.
While the network hasn't confirmed any plans it's also trialling voice over LTE, so a consumer roll out of that could be on the cards.
Finally, EE is bringing 4G to an increasing number of public areas such as shopping centres and airports, including Manchester's intu Trafford Centre. 4G services will also be coming to Wembley Stadium, while users of the Channel Tunnel will be able to enjoy 4G starting this summer in a joint venture with Vodafone.
Speaking of Vodafone, aside from bringing 4G to the Channel Tunnel the network is also currently rolling 4G out to 99 locations with over 10,000 people.
O2 hasn't specified its plans for the year, but if nothing else you can expect its general 4G coverage to expand substantially.
By the end of 2014 Three intends to launch its 4G service in Aberdeen, Birmingham, Blackpool, Bolton, Bournemouth, Bradford, Brighton, Bristol, Cambridge, Cardiff, Coventry, Derby, Dundee, Edinburgh, Exeter, Glasgow, Gloucester, Huddersfield, Ipswich, Kingston Upon Hull, Leeds, Leicester, Liverpool, London, Luton, Manchester, Milton Keynes, Newcastle Upon Tyne, Northampton, Norwich, Nottingham, Oxford, Peterborough, Plymouth, Portsmouth, Preston, Sheffield, Slough, Southampton, Southend On Sea, Stoke On Trent, Stockport, Swindon, Watford and York.
As well as increasing its coverage Three is also set to upgrade its capabilities by connecting its back-haul network to Virgin Media's fibre optic network, future-proofing it against increasing data demands.
The network has also made an agreement with EE to share masts and back-haul networks in order for both networks to reduce their roll out costs, however antennas and base stations won't be shared, so this won't instantly give Three more coverage.
2015 plans
By 2015 EE should already have fairly comprehensive 4G coverage, along with a healthy number of subscribers. The network hasn't confirmed its plans beyond that but we'd assume that it will finish mopping up the few patches of the UK that don't have 4G yet as well as expanding its double-speed and LTE-A networks.
Both Vodafone and O2 aim to bring 4G to 98% of the UK by the end of 2015, which could leave the networks up to a year behind EE.
Three also aims to bring 4G to 98% of the UK population by the end of 2015 as well as presumably continuing its network upgrades with the help of Virgin Media.
Conclusion
Right now EE is still way out in the lead, though Three is more attractive in some ways thanks to its lower prices and unlimited data plans. In theory all the networks could be on a level playing field by the end of 2015, but in reality EE is likely to have substantially increased the speed of its own network and will also probably continue to bring 4G to shopping centres, airports and other public spaces. So we'll keep you updated, but EE is still definitely leading the pack.