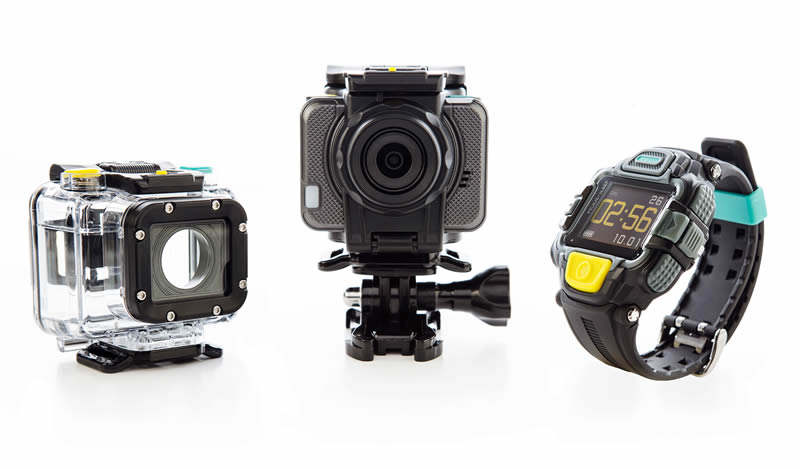 EE is really going big with own brand devices. Not content with phones, tablets and MiFi devices the network is now exploring new uses for 4G, with the launch of the UK's first 4G action camera.
The camera, simply called the 4GEE Action Cam, can take 13 megapixel photos and shoot full HD video and it features 2.5GB of internal storage, plus a microSD card slot with support for up to 64GB more, so you can fill it with all your adventures.
Not that you'll need to keep much stored on it, as it's also 4G, so you'll be able to upload and share your snaps and footage instantly, anywhere with a mobile signal.
Checkout the 4GEE Action Cam in store
That's a UK first, but there's even more innovation in this little device, as it also comes with a Viewfinder Watch, which lets you control the camera from your wrist and set up your shots. Or you can download the 4GEE Action Cam app and control it from your phone.
You can even live stream your footage straight to the new Skeegle app, which is free, keeps streaming simple and keeps you in control of who you share your footage with. So those you choose can view all the action live as it happens or watch it after the fact if they miss out.
That could all prove incredibly useful, as this is an action camera, designed to be strapped to handlebars and helmets, not held like a normal camera.
It comes with an accessory adapter so you can easily strap it to whatever you want and with both a lightweight case and a waterproof one it should be pretty durable.
You'll never miss a moment either, as its 2260 mAh battery can last for up to three hours of live video streaming.
At £299.99 preloaded with 2GB of data on pay as you go it's not cheap, but as an innovative UK first it doesn't need to be.
For £399.99 you can get it with 24GB of data or you can grab it on a 24 month plan with 2GB of monthly data for £15 per month plus £49.99 upfront or with 10GB of 4GEE Extra data for £20 per month and £49.99 upfront.
Or you can get it for £15 per month with no upfront cost if you share data from your 4GEE phone. The cases, Viewfinder Watch and adapter are included at no extra cost, so you get a lot for your money however you choose to buy it. The 4GEE Action Cam is out now, so you can start preparing for your next adventure.