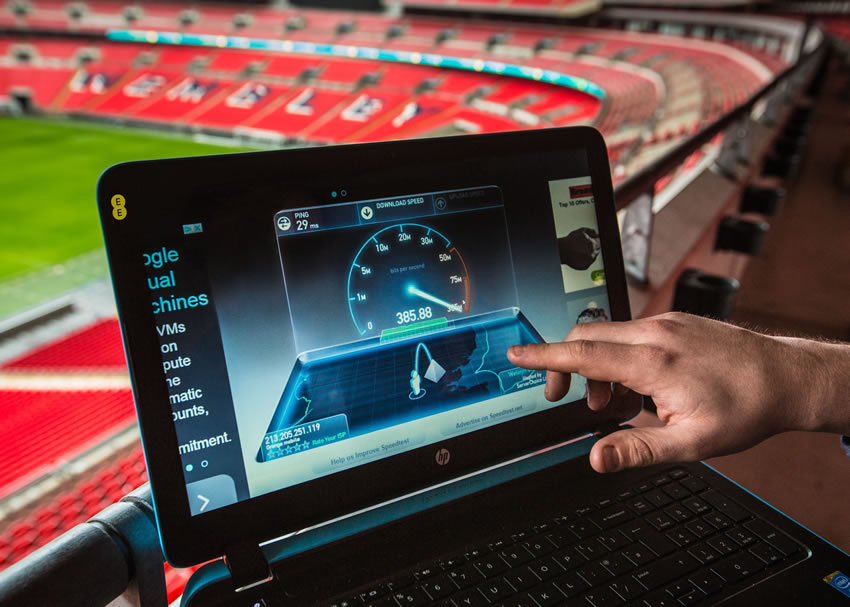 EE has invested heavily in Wembley Stadium, bringing it in to the 21st century with improved 4G capacity and speeds, a mobile app and more.
And it's not done yet, as EE is planning to switch on 4G+ at the site at the end of March, bringing possible download speeds of up to 150Mbps.
Before that though EE has shown off something even more ambitious, as this week it trialled 400Mbps 4G at Wembley. It worked with Huawei and Qualcomm to achieve this, using carrier aggregation to add another 15MHz channel to the 2.6GHz band.
Technology like this would be ideal for large venues like Wembley Stadium, as it can support the data demands of a huge number of people simultaneously and is fast enough to allow for rapid downloads and high quality video streaming to large devices.
"Smarter devices with more data intensive video and audio demands are launching all the time, and it's trials like these at Wembley Stadium that allow us to ensure EE customers continue to get the very best experiences from their mobile network now and in the future," said EE CTO Floris Karonis.
Of course for now this is just a trial and even if EE was ready to launch a 400Mbps network the UK isn't ready for it, as it requires Cat 9 devices to fully take advantage of it and so far there are no commercially available Cat 9 devices and they're not expected to be widely available until the end of 2016.
EE is also planning to trial LTE-Broadcast or evolved Multimedia Broadcast Multicast Service (eMBMS) at Wembley Stadium during the first half of this year. It's a technology which makes it possible to live stream major events over 4G and it follows similar tests at the Commonwealth Games last year, though like Cat 9 4G it's currently held back by a lack of device support.
That might at least give the other UK networks time to catch up on EE's lead and prepare to also support those speeds. Currently EE has a faster network with wider coverage than anyone else in the UK, but with Hutchison Whampoa poised to buy O2 and the forthcoming auctions of 2.3GHz and 3.4GHz spectrum it could be all change over the next couple of years.