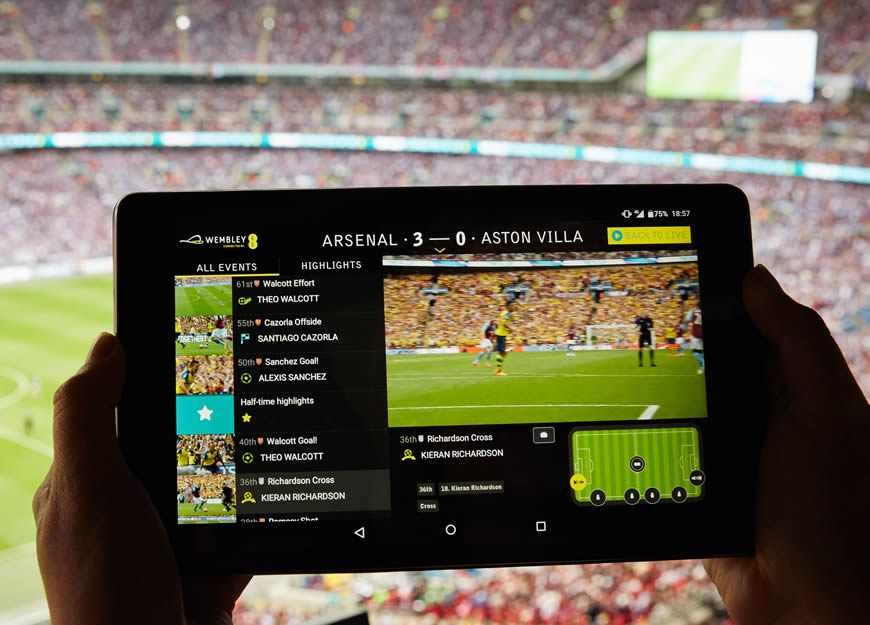 More and more mobile users are watching videos from their 4G phones and tablets and there's an increasing expectation that any and all content will be available to view, but making live events available is problematic.
They drive the highest peaks of usage on the EE network, so they're seriously important, however in the most crowded areas that can lead to network congestion, which in turn leads to lengthy buffering times and pixelated images. But 4G Broadcast, sometimes referred to as LTE Broadcast, provides a solution.
Rather than traditional unicast mobile streaming which sends video streams from the network to each individual user as and when they demand it, 4G Broadcast makes the content available to everyone in a given area, so the number of people connecting to the stream makes no difference.
The service isn't commercially available yet but EE trialled the technology at the FA Cup final, allowing selected viewers in Wembley Stadium to view the action on their tablet, choosing between three different live camera angles and a selection of replays, each of which also had multiple camera angles to choose from.
Viewers could switch between camera angles and between live footage and replays at any time and there were even extra features like live updates of interactive Opta stats and the ability to ask questions, such as "Which player has made the most passes in the game so far?"
That right there is the future of live TV, but there's work to be done before it becomes commercially available. Even to access the technologies and services required to run the trial EE had to collaborate with Qualcomm, Huawei, EVS and Intellicore, so it's not something that the network can achieve on its own, but it's working with technology partners to make 4G Broadcast more than just a tech demo.
Olaf Swantee, CEO at EE, said: "4G is not just about faster web and video download speeds, it will also change where and how we watch live events on mobile devices. We are continuing to innovate, and to show how powerful 4G technology can be. In the future, 4G Broadcast will make live television available to mobile audiences in a way we have never seen before, and the cross-industry collaboration in this project has enabled a big step forward in making that possible."
The good news is that it may not be too long before users can view many live events like this, as EE aims to build 4G Broadcast capability into its network in 2016, so you can get a closer view of the biggest sporting and music events live, wherever you are.