[caption id="" align="aligncenter" width="545"]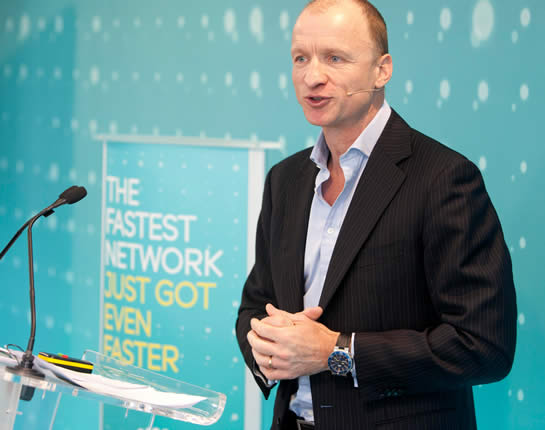 Olaf Swantee CEO of EE quoted below.
[/caption]
EE has seen good 4G customer growth in recent months and now has over 2 million 4G customers.
The company has so far launched 4G in 160 towns and cities and its 4G network covers over 70% of the population in the UK.
EE's 4G Subscriber Growth
EE launched 4G back in October, 2012 and achieved 1 million 4G customers in August, 2013 or 10 months after launch. EE has confirmed they achieved 2 million 4G customers in January, 2014 or 4 months after achieving the first million.
Currently, EE is adding 250K additional 4G customers a month, but it is not as clear-cut as that. Olaf Swantee (above), CEO, EE has stated that "approximately two out of three new 4G customers moved over from Orange and T-Mobile plans".
In terms of totally new customers or those switching from the other 4G mobile operators including : Vodafone, O2 and Three to EE this works out at 82.5K per month.
EE also confirmed it was working with over 4000 corporate businesses but did not reveal 4G customer numbers for these.
It would have been interesting to learn where the bulk of EE's 4G customer growth was being achieved, personal or business.
EE's Future 4G Subscriber Growth
EE is an excellent position to take full advantage of its market leading position. It is the only 4G mobile operator to offer "double speed" 4G in the UK in 20 cities. It is also trialling "quad speed" 4G or LTE Advanced and aims to launch it in 2014.
Double speed 4G offers download speeds of twice that of standard 4G and ten times that of 3G whilst Quad speed 4G offers speeds of four times that of standard 4G and twenty times that of 3G.
With the above technology in-place or planned and with Vodafone, O2 and Three not having mentioned these so far we can only see EE landing more and more 4G customers in both the personal and business sectors.
5 Million 4G Customers by end of 2104?
We calculate that if EE were to continue its current rate of growth (250K additional customers per month) they would achieve a total of  5 million 4G customers before the end of 2014. It should be noted that EE has not confirmed any future growth targets so far.
Looking to find more out about "double speed" 4G?