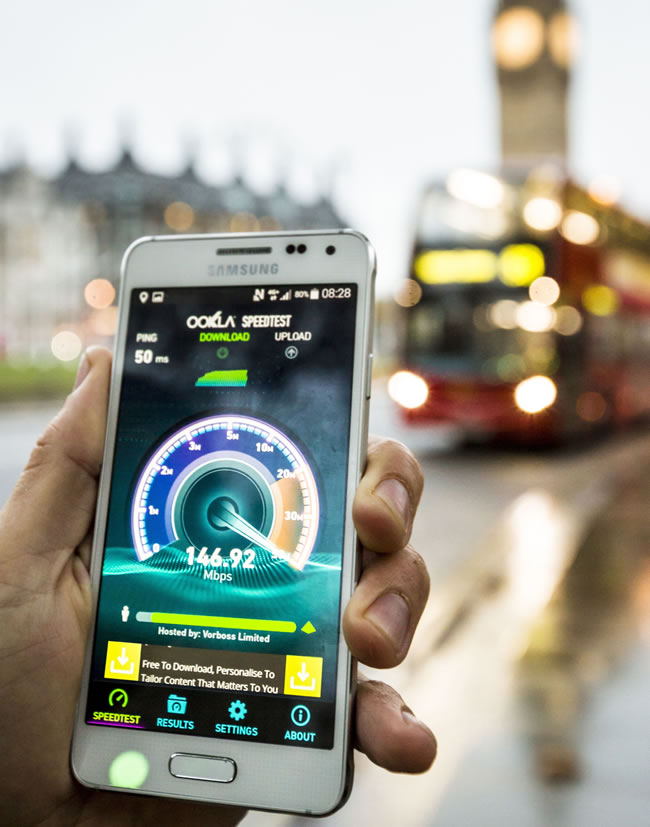 EE has switched on
4G LTE-Advanced
in Central London and it will be expanded across Greater London and the UK's main cities in 2015. EE has named this 4G+.
4G+ brings speeds which are, in many cases, faster than fibre broadband and the operator says it will give its customers access to some of the fastest 4G speeds anywhere in the world, bringing mobile data speeds of up to 150Mbps.
4G+ rollout
From today, 4G+ is available in in large parts of central London, including Shoreditch, Old Street, Southbank, Soho, Westminster and Kensington. Come June, 2015 the operator will have rolled out 4G+ across Greater London, Birmingham, Liverpool and Manchester.
How 4G+ works
Essentially while standard data connections use one antenna and one signal at any given time, 4G LTE-A uses multiple signals and multiple antennas.
The new 4G+ technology harnesses carrier aggregation techniques combining EE's 1800MHz and 2.6GHz high capacity spectrum.
Up to five different signals can be combined at once and with each offering up to 20MHz of bandwidth they can be combined to create a data pipe of up to 100MHz of bandwidth.
The end result is that it's faster than standard 4G, a lot faster.
Faster 4G for everyone
Everyone within an area where 4G+ has been switched on will benefit to some extent. 4G+ will deliver peak speeds of around 90Mbps giving a boost to all customers with a 4G compatible phone. However, EE has not confirmed what 4G boosted speeds apply for all customers.
Only those with a 4G-LTE (4G+) phone and a 4GEE Extra or Corporate 4GEE plan will benefit from the full speed benefits of 4G+ and that currently only applies to owners of the Samsung Galaxy Alpha and the Samsung Galaxy Note 4.
Mobile data speeds in 4G+ areas will regularly be up to 90Mbps, and customers will see speeds as high as 150Mbps, but only for users with a compatible device on a 4GEE Extra or Corporate 4GEE plan.
The new speeds are achieved through 'carrier aggregation', combining 20MHz in each of the 1800MHz and 2.6GHz bands, enabling a theoretical maximum speed of 300Mbps.
The additional 20MHz of spectrum doubles the capacity of EE's network in London, increasing average speeds for all 4GEE customers, no matter what device they're using or which 4GEE plan they're on.
EE's comment on 4G+
Olaf Swantee said :"The UK is now back to being a world leader in mobile networks. Just two years since we were behind every developed market from the US to Japan, we've invested in innovation, driven competition and given people in London a mobile network that's faster than almost any other in the world, and even faster than most fibre broadband available here.
"We're delighted to be able to exclusively offer our business and consumer customers on EE plans the fastest speeds available in the UK. We're now the largest 4G network in Europe, but it doesn't stop here. We'll keep investing to make sure that all our customers can get access to the great mobile technology that can make a real difference to the way they live their digital lives."
300 4G towns and cities
As a secondary announcement confirmed the operator continues to roll out 4G to the whole of the UK. 19 more towns and cities have been switched on this month, with Warwick the 300th 4G town and city to go live. 4G from EE is now available to more than 75% of the UK population.
The 19 new 4G towns switched on this month are: Alexandria (Scotland), Banbury, Biggleswade, Blaydon, Catterick Garrison, Cookstown (Northern Ireland), Garforth, Greenock, Holmfirth, Limavady (Northern Ireland), Maltby, Oxted, Penicuik (Scotland), Tring, Waltham Cross, Warminster, Warwick, Winterbourne, and Ystrad Mynach (Wales).