[caption id="attachment_3416" align="aligncenter" width="300"]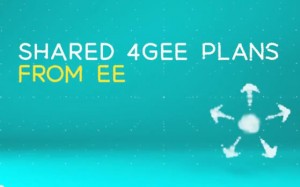 Shared 4GEE Plans[/caption]
It seems EE doesn't think you'll blast through your 4G data allocation quick enough on your own, so has introduced Share 4GEE Plans, to enable up to four other people to suckle from your generous data-giving teat. The pay off is that everyone gets unlimited minutes and text, all charged to just the one bill.
EE explains everything in the video below or you can get full details, plus a bevy of bundle options from the Shared 4GEE Plans website. It offers the usual range of data plans of 1GB, 1.5GB, 2GB, 10GB or 20GB, but as an additional treat provides unlimited calls and text messages for everyone on the plan.
Where we really see this being useful is with multi-device users, while EE is selling this on the back of saving money by sharing with family members, it also enables you to share your data allocation amongst all of your 3G or 4G enabled devices. So instead of having to juggle separate bills and tariffs for your iPhone, iPad and Galaxy Note, the Share 4GEE Plan enables you to lump them all onto the same data plan and bill. Easy.
What's nice about Shared 4GEE Plans is that you can add people and devices to the plan, throughout the contract period. So when you upgrade to the new Nexus 7 (2013) 4G, you can add that to the plan easily enough. It's not even restricted to 4G devices, being open to any 3G devices too.
With competition in the 4G arena now hotting up, while this is a handy feature to offer customers, we're not sure if it's going to counter higher 4G charges. With an example bundle starting at £51 per month for the Samsung Galaxy S4 and a shared SIM with 10GB data that's a lot even with unlimited calls.