[caption id="attachment_4745" align="aligncenter" width="615"]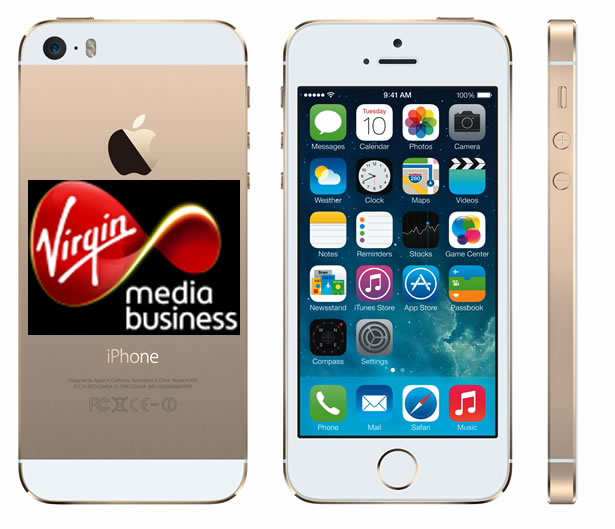 4G enabled phones like the Apple iPhone 5S are coming to Virgin Media Business.
[/caption]
EE have secured an agreement with Virgin Media Business which allows Virgin Media to offer 3G and 4G mobile services to its existing and new customers.
Virgin Media Business will be offering 4GEE services under its own brand, so they will effectively be a Mobile Virtual Network Operator ( MVNO ) and will use the same 4G network as EE and will also be able to offer the full range of phones, tablets and dongles as EE and with the same pricing structure.
This is a great move for both EE and Virgin, but perhaps Virgin will benefit most. They will get access to a 4G mobile network which has already been launched in 105 towns and cities and will reach 120 by the end of this year. In addition, EE have already updated its 4GEE mobile service in 20 cities to "double speed 4G". This places Virgin Media Business ahead of Vodafone and O2 who trail well behind in the 4G mobile network stakes.
A bonus for EE is that Virgin Media Business will offer its newly launched 4G mobile services to its existing fixed line business users, so we'd expect a ready-made take-up of new customers to boost EE's 4G subscriber levels which recently hit over 1 million subcribers ahead of schedule. See more here : EE Gain A Stronger 4G Foothold Over its Rivals.
Interestingly, the new deal will let Virgin Media Business customers have a single mobile device which will function as a 4G mobile and land-line device. The latest 4G phones will all be available to Virgin's customers and include the new iPhone 5S and 5C, Samsung Galaxy S4 and the rest on sale with EE.
Duncan Higgins, director of products and marketing at Virgin Media Business, said: "We're simplifying things for our customers by being the single supplier for all their telecoms needs. EE's 4G experience over the past ten months clearly illustrates the benefits of the technology and their 4G network coverage is unrivalled in the UK. With 4G, you can get more done, work flexibly and bring your professional applications together on a single device. Remote working is now the norm and adding 4G to our services increases our customers' options for working in a way that suits them.