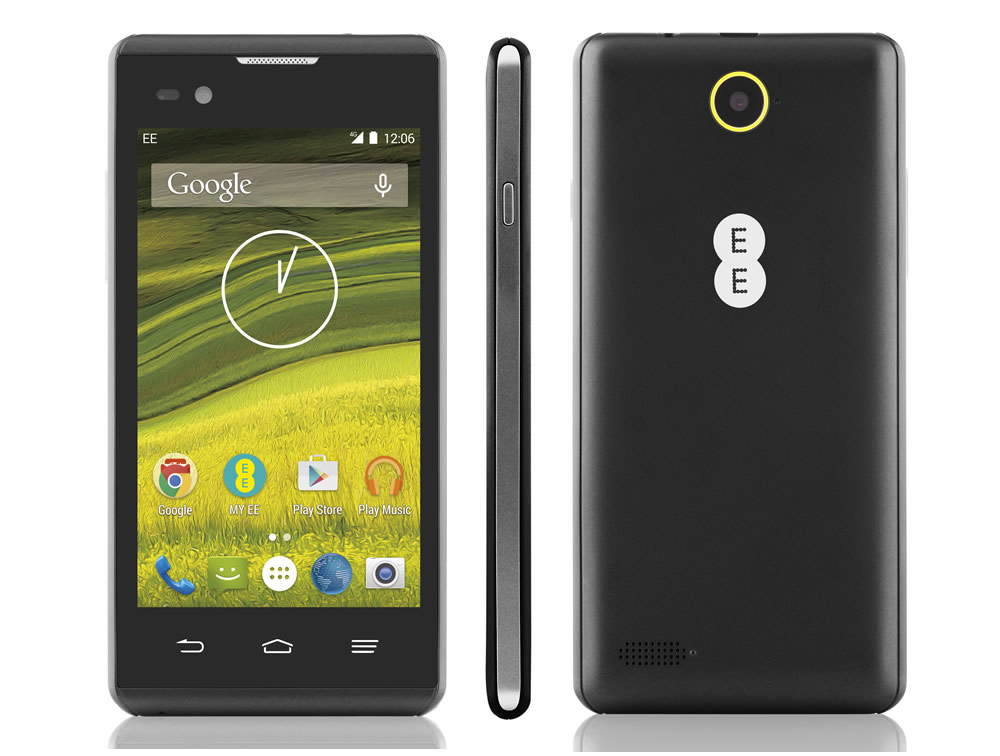 EE is really ramping up its smartphone output, with the Harrier and Harrier Mini recently launching and now the EE Rook.
Unlike the Harrier and even the Harrier Mini, which offer solid specs on a budget, the EE Rook is a truly entry level handset, available from just £49 (or £39 for existing EE customers).
So the question is can you really get a worthwhile handset for so little money or is it just too cheap for its own good? Read on for our first impressions.
Screen
The EE Rook has a 4.0-inch 480 x 800 display. That's certainly quite low resolution, falling below the 540 x 960 Moto E and well below the 720 x 1280 Harrier Mini, but given that the EE Rook has a very small 4.0-inch screen it's actually got a reasonable pixel density of 233 pixels per inch, which isn't much lower than the 4.5-inch Moto E.
So it's surprisingly sharp given how cheap it is, though it's far from crystal clear. The 4.0-inch size could be seen as either a good or a bad thing. Most phones are bigger and most people want bigger phones, but if you particularly want a compact handset this is compact and then some.
The size makes it easy to use one handed and easy to fit in small bags and pockets. That, combined with the low price, also makes it the ideal phone for a child.
Design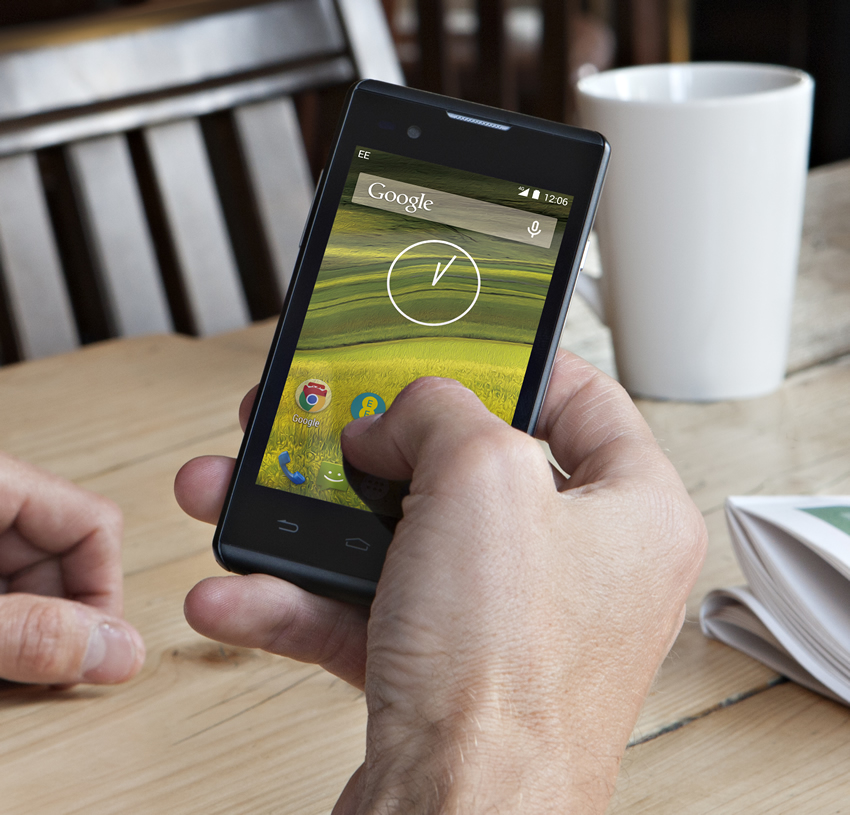 The EE Rook has a plastic build as you'd expect given how little it costs and it looks fairly cheap too, with a chunky 10.3mm thick frame and large bezels surrounding the screen. At the same time though it looks fairly well built and has metallic strips along the edges, giving it a slight hint of style. The EE Rook ultimately looks about as cheap as it is, but it doesn't look too bad.
Power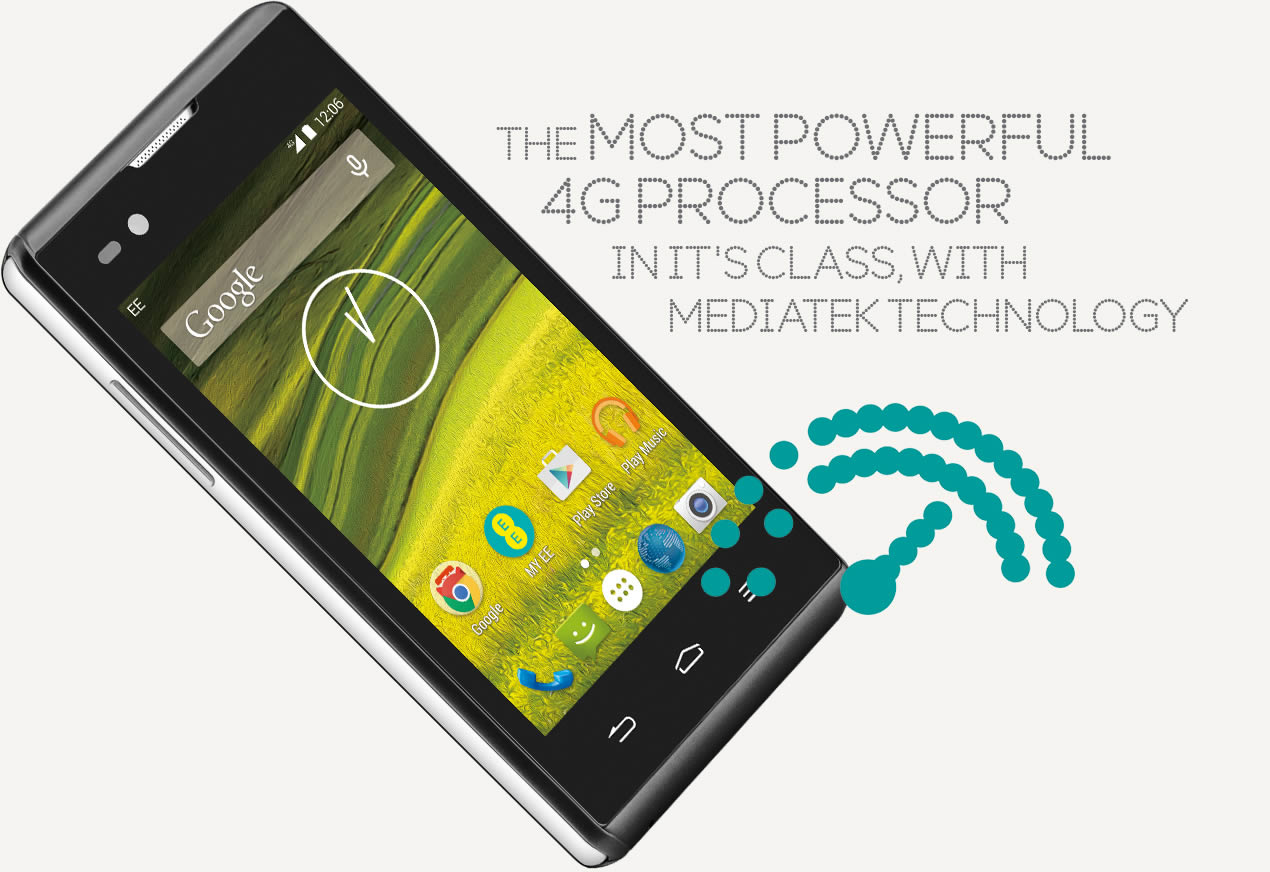 There's a 1.0GHz quad-core MediaTek processor powering the EE Rook, which is fairly impressive for the price, especially as it's an energy-efficient 64-bit processor, equipped to make the most of Android 5.1 (which the phone ships with).
Now, MediaTek aren't as big a name in processors as Snapdragon and only being 1GHz leaves it a little slow, but even being quad-core is good for the money.
That's combined with 1GB of RAM, which should leave it powerful enough to comfortably cope with Android and the basic smartphone functions. This isn't a phone you'll want to use for gaming or anything else processor intensive, but for web browsing and apps it should be fine.
Speaking of web browsing, the EE Rook supports 4G, so you can do that speedily even when there's no Wi-Fi and it's the cheapest 4G smartphone available in the UK, so it's a great option if you want to get 4G without spending out too much.
Camera
The EE Rook has a 5 megapixel camera on the back and a 0.3 megapixel one on the front. That 0.3 megapixel snapper isn't likely to be up to much at all, but it's better than no front-facing camera, which is exactly what some entry level phones have.
The 5 megapixel rear snapper should be a bit better, especially as it has a number of modes, such as continuous shot and face detection. There's no flash though, so don't expect it to perform well in low light.
Features
Being such as low price phone the EE Rook is light on standout features. The price itself is arguably the main one, combined with 4G support and Android 5.1, which is the latest version of Google's mobile operating system.
Battery life, memory and connectivity
The EE Rook has a 1500 mAh battery, which is small for a smartphone, but then this is a small smartphone with a low power processor. EE reckons you can get over 5 hours of talk time out of it or over 400 hours of standby time, which are pretty average figures at best, but enough that it should last for a day of light to moderate use, which is really all you can hope for when you're spending under £50.
There's just 8GB of built in storage but there's also a microSD card slot with support for cards of up to 32GB, so that can be expanded. Connectivity options include Wi-Fi, Bluetooth 4.0, 3G and of course 4G.
Early verdict

The EE Rook is almost suspiciously cheap, but in fact it seems there's little need for suspicion, as it actually seems to be a reasonable phone, which in itself is a miracle for the price.
Cost aside it's not likely to impress anyone, but with a fairly crisp screen, a pocket sized build, 4G, a quad-core processor and the latest version of Android it can do all the basics you'd hope for from a smartphone.
If you want heaps of horsepower and fancy features you'll have to spend more, but as a first smartphone, a spare, or just one you don't expect to use for very much the EE Rook is shaping up to be a very good choice.

EE Rook Specification Dimensions : 126 x 64 x 10.3mm Weight: 130g Screen size: 4.0" (480 x 800) Screen Resolution: 480 x 800 display resolution Pixels Per Inch (PPI) : 233 Processor: Quad-core application processor RAM: 1GB On-board Memory: 8GB (microSD card support) Camera: 5MP (rear) 0.3MP (front-facing) Operating system: Android 5.1 3G / 4G LTE: Yes / Yes Bluetooth / NFC : Yes / No Battery capacity: 1500mAh Colours: Black Launch Date: Out Now Price: £49