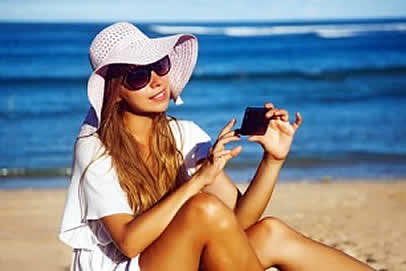 4G while sunbathing!
EE's 4G service might be on the expensive side but it certainly offers a lot more than most of the competition. Not only does it have a wider ranging 4G coverage and double speed in a number of locations but now it's even letting you enjoy 4G when abroad.
There's a catch of course, currently it's only available in Spain and France, plus you do have to pay extra to use it. Bundles start at £3 for 100MB of data in Europe, which is affordable but not exactly cheap. You also have to use that data within 24 hours or it expires.
If you've got holidays planned elsewhere in the world you might still be in luck as while it's just France and Spain for now, EE has announced that it will extend the service to Germany, Italy, the Netherlands, Switzerland and the USA by Summer. As its current prices specify Europe we'd assume the £3 for 100MB would apply to all those countries except the USA, which may cost more, though EE hasn't yet announced what the pricing will be.
The whole initiative is reminiscent of the way Three now allows customers to use their normal UK plan for minutes, data and texts when in 11 different countries. As with most things on Three it's cheaper than EE, as you don't actually have to pay anything extra, but for the time being Three only offers 3G when abroad.
In any case it's great that EE is making it more affordable to use your mobile phone abroad and with plans like this maybe roaming charges will one day be a thing of the past.
 Looking to find out exactly what 4G is all about?