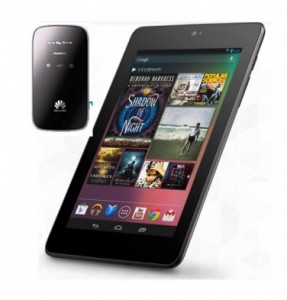 Well, 4G.co.uk never saw this one coming. EE has added the Google Nexus 7 tablet to its portfolio of 4G Tablets. The only problem is that it is NOT a 4G enabled i.e. it can't directly connect to EE's 4G mobile network itself.
The answer is that EE are bundling the NON-4G enabled Google Nexus 7 with the Huawei E589 Mi-Fi device which will let users set-up a "4G hotspot" anywhere where there is a 4G signal being received. The Huawei E589 Mi-Fi device offers the ability to connect up to 5 devices ( laptops, phones and tablets ) all of which can benefit from EE's 4GEE service.
The Google Nexus 7 is an Android tablet and is added to EE's ( which owns Orange and T-Mobile ) impressive 4G portfolio of devices. At the same time, another new addition is the Samsung Galaxy Note 10.1 LTE tablet which is 4G enabled.
The Google Nexus 7 plus the bundled Huawei E589 Mi-Fi device is available for a one off fee of between £30 and £50 depending upon which 4G data allowance plan you choose with the cost of a contract starts at 3GB of data for £26 per month and 8Gb for £36 per month.
The Google Nexus 7 is manufactured by ASUS, a well known manufacturer of 3G phones and tablets, it has a 7 inch touchscreen display with 1280 x 800 HD display (216 ppi), Android OS 4.1 (Jelly Bean), 1.2MP front-facing camera, 16 GB internal storage, 1 GB, NFC (Android Beam) and is manufactured in a Wi-Fi only version or a 3G and Wi-Fi version. EE have not confirmed which they are supplying to its customers yet 4G assume it would be the version that offers both 3G and Wi-Fi.
Paul Jevons, Director of Products and Devices, EE, said: "We're pleased to be announcing our first Android tablets on the EE brand just in time for Christmas.  With these new devices, we're extending the possibilities of what 4G has to offer to an even wider range of users, so they can work or play with greater freedom than ever before."