[caption id="attachment_2502" align="aligncenter" width="300"]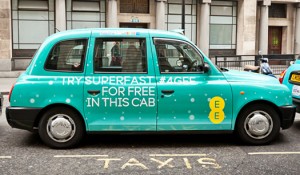 4G in taxis via EE[/caption]
4G is great if you've got it but for everyone else mobile internet can still be painfully slow. There are a lot of free Wi-Fi hotspots around now which can help in urban areas, but only if you're happy to stay still. Once you're on the move you're back to using 3G, complete with its signal dead zones.
EE have apparently recognised how frustrating this is and have seen fit to install a fleet of taxis with free superfast 4GEE internet. They've achieved this by fitting the vehicles with state-of-the-art MiFi wireless routers which act as 4G hotspots, meaning that you don't need a 4G ready handset to connect (as the router is doing all the work) and there are no dropped signals.
EE have upgraded fifty taxis in all, forty in London and a mere ten in Birmingham. You'll be able to pick them out a mile away thanks to the new aqua-blue makeover they've been given, along with the words 'try superfast 4GEE for free in this cab' plastered across the side in case you were in any doubt.
Spencer McHugh, Director of Brand at EE spoke about the initiative, saying- "The first motorised black cabs hit the streets in 1901, nearly 70 years before the first mobile phone was available to consumers, now we are bringing this icon of British transport into the 21st century with a 4G make-over. We hope this trial will demonstrate the benefits of a superior online experience as users can browse, download, catch up on emails, Tweet and check Facebook literally at the speed of light.  We can't make taxi journeys any faster but we can certainly speed up people's smartphones!"
Actually connecting to the service isn't as seamless as we'd like, requiring users to text a number in order to receive a personalised code that then must be entered before 4G access will be given. But it is free so we won't complain too much.
Though having said that it's free, EE have stated that the 'free 4G service' will only be available for three months. They didn't say whether it will be turned off or turned into a paid service after the three months, but we'd guess the latter since they've already invested in decking the cabs out with the necessary technology. That's a bit of a shame and we do wonder how many people will actually continue to use it if or when it becomes a paid service, so enjoy it while you can.
Of course even now its impact will likely be minimal. A quick Google search tells us that there are currently almost 30,000 taxis operating in London, so making 4G available in 40 really is just a drop in the ocean.
For those who do get to try it out EE's hope is presumably that you'll be so impressed by the speeds that you'll run to your nearest EE store and take out a 4GEE contract, and to be fair a lot of people may well do that. After all 3G is starting to feel more than a little out of date.