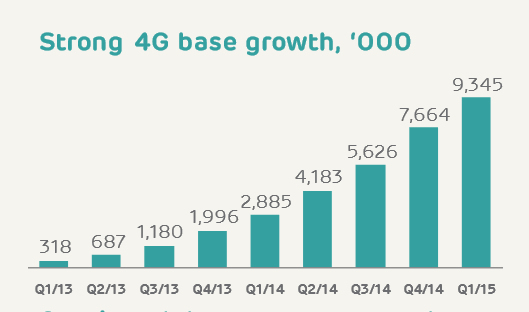 EE is showing no sign of slowing down in its drive to bring 4G to the whole of the UK, as in its quarter one results summary to the 31st of March 2015 it reveals that it has now got 87% 4G population coverage, which puts it way ahead of any other network.
That's not all the results show though, as the network has also grown its subscriber numbers by 1.7 million, bringing it up to 9.3 million in total. That's up 224% year-on-year (yoy).
96% of those new customers are on a 4G contract and almost 50% of them are signed up to double-speed 4GEE Extra, showing that customers really do care about data speed.
EE is still well below its 2015 target of 14 million customers, but it claims it's firmly on track to reach that by the end of the year.
As well as consumers EE has also signed up over 7,700 medium and large businesses to its 4G service, including the likes of Uber and Rotary Watches.
EE's network performance is set to improve too. Already it's trialled Europe's fastest 4G at Wembley Stadium, where speeds reached 400Mbps and it's brought double-speed 4G coverage to 67% of the population, all of which has helped lead it to receive a number of awards, but it's not stopping there.
The network has also announced a three year £1.5 billion investment programme, designed to help it reach 99% 4G population coverage and 90% geographic voice coverage by 2017, as well as bringing new services and innovations, like VoLTE, WiFi Calling, micro-network technology and 4G over 800MHz.
As you'd expect its operating revenue is also up, though only by 0.3% yoy excluding regulatory impacts. But it's also making more off each individual user and more on mobile data than this time last year.
Neal Milsom, Chief Financial Officer of EE, commented: "We are delivering strong, consistent commercial performance by giving our customers the best mobile voice and data network experience in the UK. As much of the UK market now has smartphones, we are leading the charge into new growth areas by cross-selling our innovative range of connected products including 4G tablets, 4G WiFi, fixed broadband and EETV to our existing customers."
Alongside the performance report, EE also revealed how the average customer uses its network, with on average 29% of a customer's data used on web browsing and email, closely followed by 28% on video downloading, uploading and streaming, then 25% on social media.
The remaining data is consumed 7% by music and app downloading and streaming, 4% by file sharing and storage and 7% by other things.