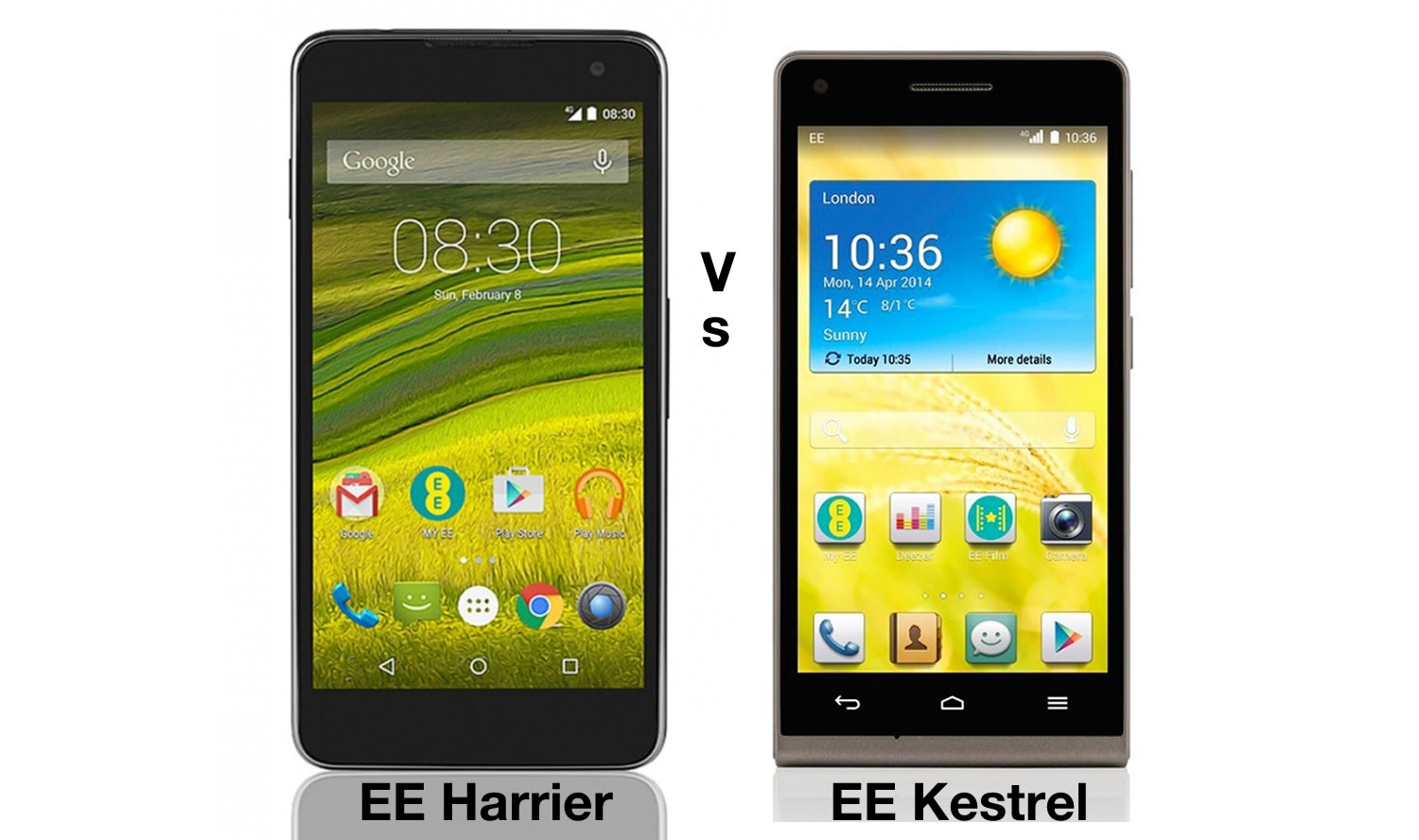 EE impressed us with the Kestrel, a phone which launched for just under £100 yet offered 4G and reasonable specs.
Now the company is back with the EE Harrier, a mid-range handset with significantly higher specs than the Kestrel and a higher price tag to go with them. But just what extra do you get for your money? And how do these two network-brand handsets compare? Read on to find out.
Build
EE Harrier ( (8.9mm plastic) vs EE Kestrel (133 x 65 x 7.85mm 145g plastic)
EE has yet to reveal full details of the Harrier above, but we know it's 8.9mm thick and it has a fairly plain design with what appears to be a plastic shell.
The EE Kestrel is similarly plain and plastic and it's actually slimmer at just 7.85mm thick, but its corners are less rounded, giving it a more blocky appearance than the Harrier. We'd say that the EE Harrier is probably the better looking of the two, despite being a little thicker, but there's not much in it.
Display
EE Harrier (5.2-inch 1080*1920 441ppi) vs EE Kestrel (4.5-inch 540*960 245ppi)
Here's the first big difference between the two. As while the EE Kestrel has a 4.5-inch screen with a modest 540 x 960 resolution, giving it a pixel density of 245 pixels per inch, the EE Harrier has a much larger 5.2-inch display with a far higher 1080 x 1920 resolution, for a significantly sharper pixel density of 441 pixels per inch.
So in other words the EE Harrier has a larger, higher resolution and crisper screen than the Kestrel. Not only that but those specs are actually verging on high end, which is pretty impressive considering this is a £199.99 phone.
Power
EE Harrier (1.5GHz octa-core 2GB RAM) vs EE Kestrel (1.2GHz quad-core 1GB RAM)
The EE Harrier is a far more powerful phone than the EE Kestrel too, as the Harrier has a 1.5GHz octa-core processor and 2GB of RAM, while the EE Kestrel has just a 1.2GHz quad-core processor and 1GB of RAM.
Despite its lower specs the Kestrel's performance isn't bad at all, but you can expect the EE Harrier to leave it in the dust.
Camera
EE Harrier (13MP rear) vs EE Kestrel (5MP rear 1MP front-facing)
The EE Harrier comes out on top yet again when it comes to the camera, as it has a 13 megapixel sensor, which is a mid to high end spec, while the EE Kestrel has just a 5 megapixel camera on the back. So the Harrier should be capable of taking far sharper photos.
EE hasn't confirmed what spec the Harrier's front-facing camera will be, but it's bound to at least match or likely beat the 1 megapixel camera on the front of the EE Kestrel.
Battery life, memory and connectivity
EE Harrier (2500 mAh 4G) vs EE Kestrel (2000 mAh 8GB 4G)
The EE Harrier has a 2500 mAh battery and the EE Kestrel has a 2000 mAh one. So the Harrier's is significantly bigger, but then it's got to power a larger, higher resolution screen and keep a faster processor running.
Unfortunately EE hasn't yet shed any light on how long-lasting the Harrier's juice-pack is, but the Kestrel can easily last a day with moderate use and given the extra 500 mAh in the EE Harrier we'd expect it to at least match that.
EE also hasn't revealed how much storage the Harrier has, but the EE Kestrel has 8GB built in and a microSD card slot with support for cards of up to 32GB. It's a safe bet that the EE Harrier will at least match that, but we'd wager it will probably up the built in storage to 16GB given the rest of the specs.
Many of the EE Harrier's connectivity options also haven't been revealed, but we know that it supports Cat.4 4G, which is fast enough to make use of EE's double-speed network.
The EE Kestrel supports that too though, as well as Wi-Fi, 3G and Bluetooth 4.0, all of which are pretty much guaranteed to be supported by the Harrier as well. The Kestrel doesn't support NFC though and we wouldn't be surprised if the Harrier does, but that remains to be seen.
Conclusion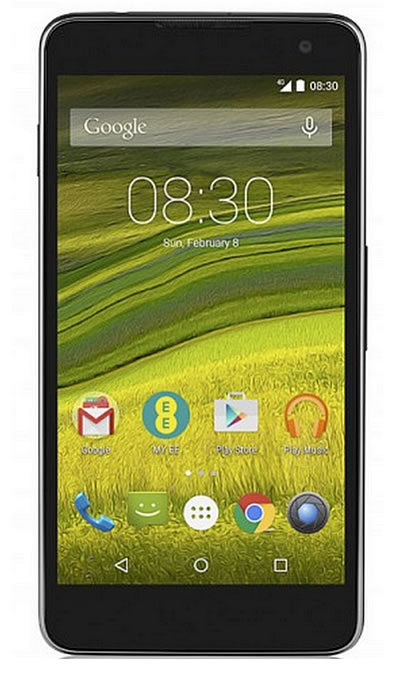 The EE Harrier is a huge improvement over the EE Kestrel, with a larger, sharper screen, a lot more power, a higher spec camera, a bigger battery and a slightly nicer design. Some specs are still unknown but if anything they're only likely to further distance it from the EE Kestrel.
That's not to say the Kestrel is bad though. It's still a slick performer and it's far cheaper than the EE Harrier. Given that price was always the main advantage it had the Kestrel is still worth considering in a post-Harrier world, especially now that you can pick it up for just £49.99 (plus a £20 top up).
The £199.99 EE Harrier can't begin to compete with that, but its specs are enough of an improvement to arguably justify the far higher price.
Stay tuned for a full review, but in the meantime the one to go for really does seem to come down to how much you want to spend. The EE Kestrel is a real bargain, but there's no escaping the fact that it's an entry-level phone. For more power and a still reasonable price the EE Harrier is the one to go for.