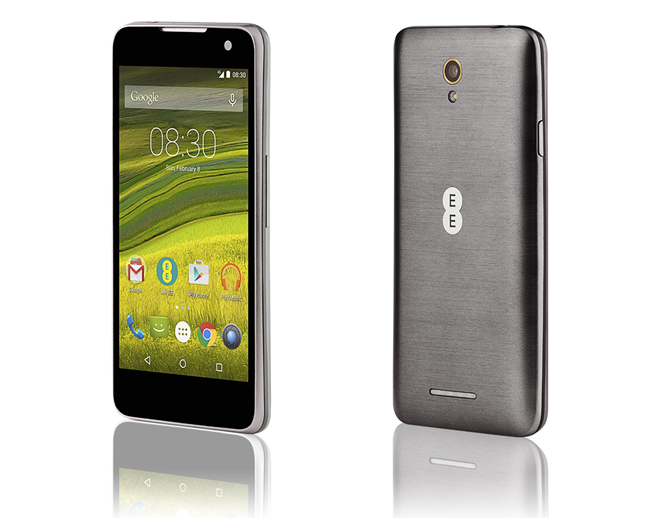 The EE Kestrel was designed to be the cheapest 4G phone on the market and now EE's back with the EE Harrier Mini, which is designed to be the cheapest phone to support WiFi Calling.
At just £99.99 EE's achieved that, but it will take more than just WiFi calling support to make it worth the money. We've given our first impressions below, but before that, what better way to get an introduction to the phone than in a video created by EE itself.
Screen
The Harrier Mini has a 4.7-inch HD screen, which presumably means it's 720 x 1280, which in turn at that size would give it a pixel density of 312 pixels per inch.
That's a decent resolution for a screen of that size and while it leaves it visibly less sharp than say the original HTC One with its 4.7-inch 1080p screen it's no worse than the Nexus 4 or the Huawei Ascend P6, despite being priced at a lower end of the market. In fact it's only a little less sharp than the iPhone 6.
4.7 inches is a reasonable size too. We'd argue that the sweet spot is closer to 5.0 inches, but that's not far off and impressive for a £99.99 phone. It also makes it ideal for anyone who prefers more compact displays.
Design
If you've seen EE's video you'll have seen that the Harrier Mini has a fairly plain design, very similar to that of the full size Harrier.
From the front it's little more than a black rectangle with quite large bezels, especially above and below the screen, which leave it looking distinctly low end.
But the back improves matters, as it has a brushed metal look to it despite being plastic and the casing curves gently around the sides of the phone, giving it a smart appearance.
At 138 x 67.9 x 9.5mm and 124g the EE Harrier Mini isn't slim, but nor is it overly chunky and it's fairly small and light.
The EE Harrier Mini won't be winning any beauty contests but nor is it an ugly phone, for the most part it's just a bit plain. The large bezels are unfortunate but they're to be expected at this price.
Power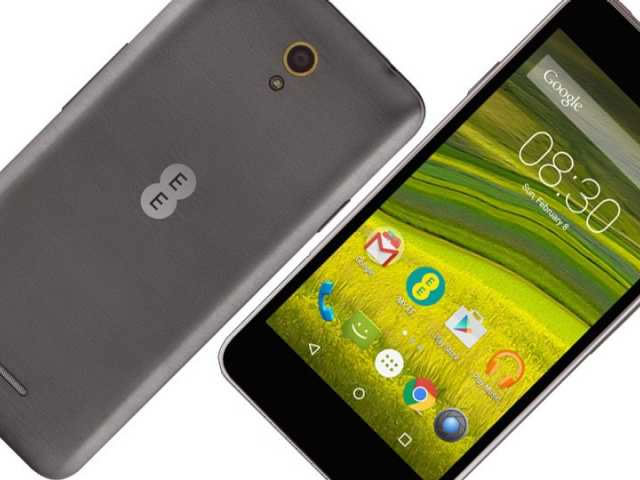 The EE Harrier Mini has a 1.2GHz quad-core processor, which we'd guess is either a Snapdragon 400 or a Snapdragon 410, but EE hasn't confirmed. In any case a 1.2GHz quad-core chip is becoming the norm for entry level smartphones so no surprises here.
The good news is that such chips provide a great balance between price and performance, usually delivering enough power to keep a phone running smoothly whether web browsing, using apps or streaming videos, though of course app launch times and gaming performance will be worse than with a higher end processor.
EE also hasn't stated how much RAM the Harrier Mini has. We'd guess there's 1GB and there certainly won't be any less than that.
It's worth highlighting its speedy mobile internet capabilities here though, as the Harrier Mini supports Cat.4 LTE, which means it can handle EE's double speed 4G network, allowing it to take advantage of some of the fastest speeds currently available in the UK. Lots of phones can do the same, but not all entry-level ones can.
Camera
With an 8 megapixel camera on the back and a 2 megapixel one on the front the Harrier Mini has a fairly decent set of cameras for a budget phone.
Pictures taken on it won't come close to what say a Samsung Galaxy S6 could take or even to the quality of snaps captured on the 13 megapixel EE Harrier, but they should be more than good enough to show off on the Harrier Mini's 4.7-inch screen.
Features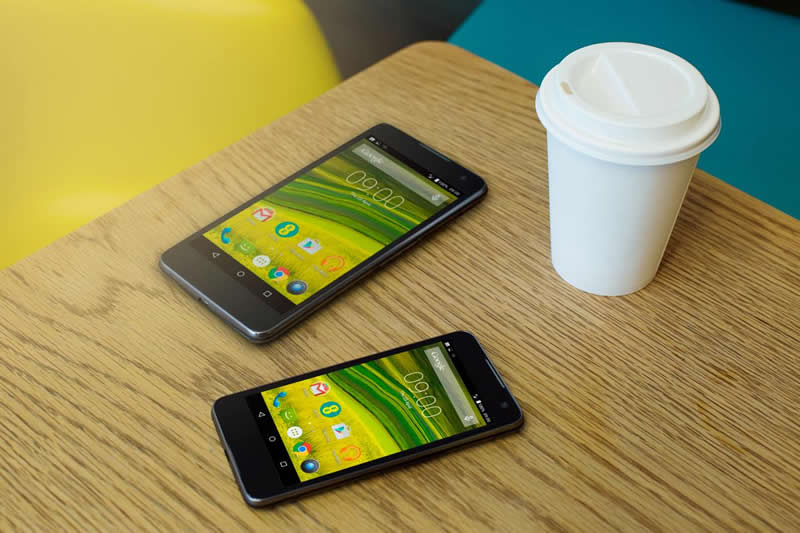 The main feature of the Harrier Mini is that it will be the most affordable way to use WiFi Calling once the service is activated this summer.
WiFi Calling allows you to call and text over WiFi, so if you're somewhere with little or no signal, be it a rural environment, a dark spot in your house, or anywhere else with a Wi-Fi connection you'll be able to stay in touch with people.
The best thing about it is that unlike services such as Skype you don't need a separate account or app to make use of it, you can keep on using your standard phone number, dialler and SMS app.
Battery life, memory and connectivity
The EE Harrier Mini has a 2,000mAh battery. That's not a bad size at all but it's about the minimum we'd hope for with a 4.7-inch handset, even at such a low price. EE hasn't stated how long-lasting it is, but we'd expect you'll be able to get a day out of it with moderate use. It certainly won't be challenging the longest-lasting phones though.
There's just 8GB of built in storage which isn't likely to go far unless you completely avoid apps and media, but there's also a microSD card slot, so you can always add more storage. Connectivity options include 3G, 4G, Bluetooth and Wi-Fi.
Early verdict
The EE Harrier Mini looks to be fairly good value for money and a worthy replacement for the EE Kestrel (which has now dropped in price to just £49.99).
EE has been cagey on some of the specs and it remains to be seen how it will hold up with extended use, but an 8 megapixel camera, a 4.7-inch 720p screen and access to WiFi Calling make for a pretty good start for a £99.99 smartphone.
Add to that a quad-core processor, an acceptable if not massive battery and a microSD card slot and it could be a winner. Competition at this end of the market is steep, with the Lumia 635, Moto G and others delivering a lot for not much money too, but if you're on a budget and particularly want WiFi Calling there's no better option.