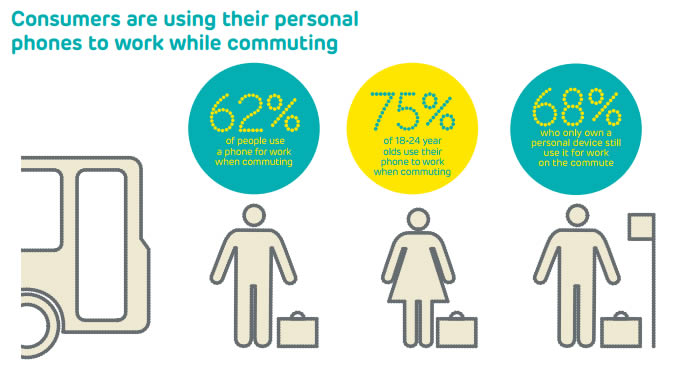 We talk a lot about how 4G can make you more productive, but it's not just about working more hours, it's about making the best use of the time you have and can even leave you with more leisure time due to getting more done throughout the day, as EE's latest 4GEE Mobile Living Index shows.
According to the Index 4G actually improves the work life balance, with 60% of customers saying they save time with 4G and 13% claiming that they have a whole hour of extra leisure time as a result. It makes sense, as it allows you to work while commuting for example and do things that you'd otherwise have to do at the office or at home, thereby freeing up more time and minimising wasted time.
In fact while only 13% of respondents actually claim to have got an hour back each day, 77% have said that 4G allows them to work more efficiently while 16% claim to be twice as productive.
4G isn't just changing the way we work either, overall data usage is also up 66% in the last 12 months, suggesting that 4G is heavily used for both work and leisure.
Ed Vaizey, Minister for Culture and the Digital Economy, said: "EE's research provides a fascinating insight into how we use our smartphones and tablets. A 66% rise in average monthly data use in just 12 months is a remarkable leap and shows the difference 4G is making to how we use our mobile devices. The rollout of 4G is crucial for the UK's digital infrastructure and will have a real impact on our daily lives."
Diving into exactly what all that data is being used for, the Mobile Living Index found that customers are using social media sites, online banking, shopping, music streaming and browsing news websites more on 4G.
In fact 4G is such a revelation for some people that 54% of customers now use fewer or no public Wi-Fi hotspots, 30% use less or no home broadband and incredibly 3% of 4GEE users even report cancelling their home broadband account since signing up for 4G, so it's even helping at home.
Olaf Swantee, EE Chief Executive, said: "With more than four million customers and over a year of data, we're in a unique position to understand how 4G is changing the way people use their devices for work and play.
"It is key that we continue to extend the social and business benefits of 4G to as many people as we can. We remain on track to cover another ten million people with 4G this year, bringing change to even more people across the UK."
It's also interesting to note that despite early problems with Apple Maps and the fact that there are far more Android than iOS users, Apple Maps actually now accounts for 70% of mapping traffic on EE's 4G network, up from 60% in the second half of 2013, so it's made quite the comeback.
But going back to the report as a whole it's clear that 4G really is a disruptive technology, changing the way people live and work, making us more productive and giving us more time back in the process. It's easy to say it's just faster data speeds, but this report really highlights just what that can mean and how much of a benefit it can be.
If the networks could do a better job of getting that message out there then 4G would surely be even more popular than it is currently.
Looking to find out more about 4G?