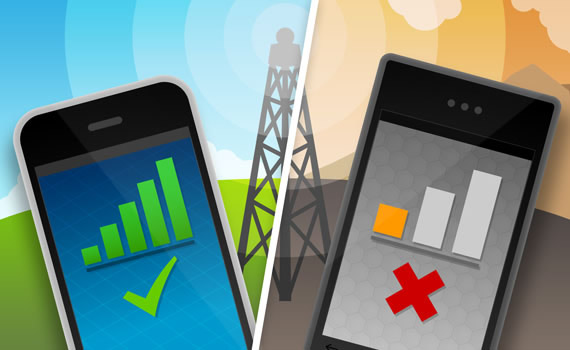 During its testing in the second half of 2014, RootMetrics drove more than 24,000 miles, testing performance in big cities, small towns and rural areas across the UK. To put that distance into perspective it's the same as driving from Land's End to John o'Groats more than 28 times and in that time RootMetrics collected 1,002,692 test samples.
In other words it's about as deep and balanced a study of UK mobile network performance as you could hope for and RootMetrics has now released a summary of what it found.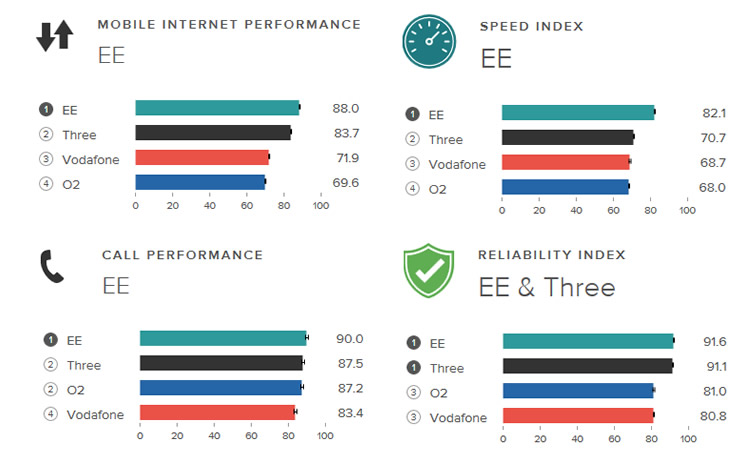 The key thing to take away is that all of the networks are getting better. With speed, internet, reliability and call performance improving across the board, with the minor exception of Vodafone showing a slight dip in blocked call rates.
But while they're all doing well EE has maintained its substantial lead. EE came in first place 91 times at the metro level, compared to Three which achieved 27 wins, O2 which managed 20 and Vodafone which achieved just 8.
In nationwide performance EE won 20 times, while Three was victorious 10 times, Vodafone once and O2 never and across the entire UK EE saw victory 6 times, Three once and O2 and Vodafone never.
EE's overall RootScore across the 2nd half of 2014 was 89.4, while Three came second with 86.2, then O2 with 79.5 and finally Vodafone with 78.8.
Breaking it down into different categories EE got a 91.6 for network reliability, while Three achieved 91.1, O2 managed 81.0 and Vodafone got 80.8.
For network speed EE got 82.1, Three managed 70.7, Vodafone 68.7 and O2 68.0. Mobile internet saw another first place for EE with 88.0, followed by Three with 83.7, then Vodafone with 71.9 and finally O2 with 69.6.
For call performance EE got 90.0, Three managed 87.5, O2 got 87.2 and Vodafone 83.4 and finally for text performance EE won with 92.7, Three got 91.3, Vodafone was on 89.6 and O2 managed 89.5.
This shows that EE was number one in every single category and Three was second for everything, while O2 and Vodafone were left to fight it out for third and fourth place.
RootMetrics points out though that both O2 and Vodafone are making aggressive improvements, so their performance could rapidly improve too, not to mention the fact that actually upgrading sites can lead to short term issues which may have affected some of the tests.
Still, it's clear that for now EE is in no danger of losing its lead and that Vodafone and O2 are for the time being really only competing for third place.