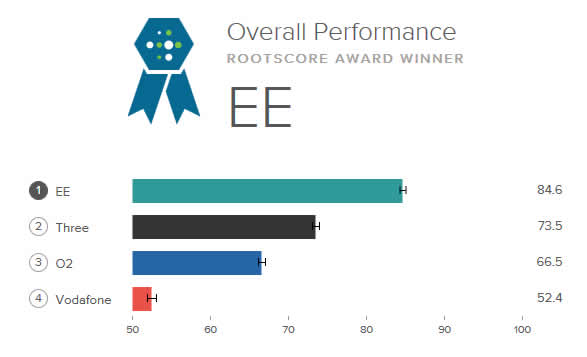 EE are the mobile kings!
Everyone's favourite mobile network evaluator RootMetrics has published its results for the second half of 2013 and EE came out way in the lead.
The network achieved an overall score of 84.6, while in second place Three scored 73.5, O2 was in third with 66.5 and Vodafone came last with 52.4.
RootMetrics awarded the scores based on thousands of exhaustive tests in numerous locations over a period of six months. Generally it puts networks to the test in a specific city, giving a score based on that location, but for this report it combined all those scores to find out which network was the best UK wide.
In this case its tests covered an area of 23,390 miles and 1007 indoor locations, so it's about the most in depth study available.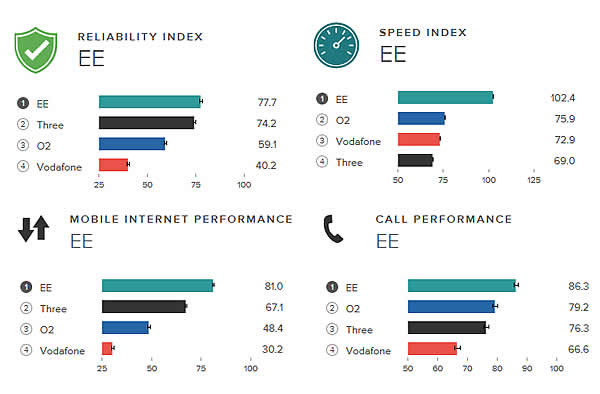 Not only did EE come in first overall but it also came out on top in each of the five areas that make up the overall network score. In its mobile internet performance tests RootMetrics assesses the reliability and speed of uploads and downloads on each network. For that EE achieved an overall score of 81.0, while Three was once again second with 67.1, O2 was third with 48.4 and Vodafone was last with just 30.2.
Call performance is also put to the test, in this case RootMetrics judges each networks ability to place and maintain calls. EE scored 86.3 here, while O2 scored 79.2, Three scored 76.3 and Vodafone scored 66.6.
In its text performance tests RootMetrics judges how reliably and quickly texts are received on each network. Yet again EE did the best, with a combined UK score of 93.0, but the competition were close behind with O2 scoring 90.8, Three scoring 90.4 and Vodafone achieving 88.3
Network reliability and speed index
Finally RootMetrics awarded each network a reliability index and speed index score, which combines all the other results to show how reliably and quickly each network performs each and every task demanded of a phone, across calls, texts and data usage.
In the reliability index EE scored 77.7, while Three was just below with 74.2, O2 was third with 59.1 and Vodafone was last with 40.2.
In the speed index EE again performed the best, with a score of 102.4, while O2 beat Three to second place with a score of 75.9, Vodafone also beat Three with a score of 72.9 and surprisingly Three came last with a score of 69.0
So what can we take away from all this? Well for one thing EE is outperforming the other networks in all areas. It was expected that its mobile internet performance would be at the top thanks to its large 4G network, but it's coming out on top in text and calls tests as well.
Ultimately it may start to lose its lead on the internet front as the other networks start to catch up with its 4G coverage, because lets not forget that O2 and Vodafone didn't even launch 4G till near the end of 2013 and Three is only now doing a widespread launch, so EE definitely had an advantage during the test period, though with initiatives like double speed 4G, LTE-A and 4G abroad it could take a while for any other network to catch up.
The other networks test and call performances can't be so easily explained away and Vodafone in particular under performs in almost every area. Three deserves some recognition though as despite being the smallest of the networks it's outperformed both O2 and Vodafone and is nipping at EE's heels.
Can EE keep this up?
It will be interesting to see whether EE can maintain its lead, but for now it seems there's no question that it's the network to go for. Of course the one thing these tests don't compare is pricing and EE tends to be rather more expensive than the competition and than Three in particular, but with results like these it becomes a lot easier to justify.
Right now EE certainly looks unstoppable, it topped the most recent tests in every UK location, with tests covering everywhere from London, to Edinburgh, to Belfast, to Leicester and a whole lot more besides. Hopefully though the results will act as a call to arms for Vodafone and O2 and we'll start to see some real competition going forwards.
Looking to checkout EE's 4G network rollout and coverage?