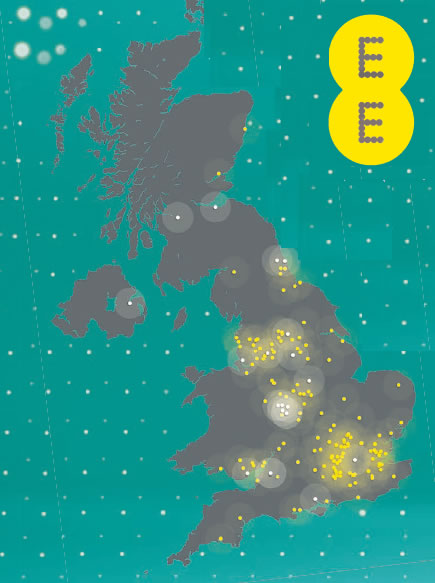 EE's 4G is now available in 229 towns and cities.
EE's 4G coverage now reaches 73% of the UK, following a rollout to 14 more large towns. The towns in question are Mansfield, Swinton, Jarrow, Kirby, Wishaw, Ilkeston, Castleford, Walton-On-Thames, Totton, Carrickfergus, Newton Abbot, Wimborne Minster, Ramsbottom and Dumbarton.
These new additions are spread across the UK from Devon to Scotland and bring the total number of 4GEE enabled large towns and cities up to 229, while over 2,500 small towns and villages are also covered. So head on over to our EE 4G coverage page for a complete overview of EE's network and where its 4G is available, or if you're in the market for a new 4G phone pop on over to our 4G phones section.
73% coverage is great and keeps EE way out in front of the other networks, but it still has a way to go to meet its target of 98% population coverage by the end of the year, so don't expect EE's 4G rollout to slow down anytime soon.
Of course it's not all about towns and cities, as 4GEE is also available in numerous airports while the network is also bringing its superfast service to this year's Glastonbury festival. Then there's the 20 cities that receive double speed 4G and EE's recent £275 million investment in upgrading 2G and 3G equipment and in improving voice services in rural locations through 4G and Wi-Fi calling.
So EE isn't just focused on delivering superfast mobile internet, it's investing heavily in a complete network experience and while London and other major urban centres are unsurprisingly its focus it's not forgetting rural and isolated locations either.
We expect that EE will switch its 4G service on in more towns soon, but in the meantime if you live in one of the 14 locations above now's the time to see what all the fuss is about.
Looking to find more news on EE 4G?