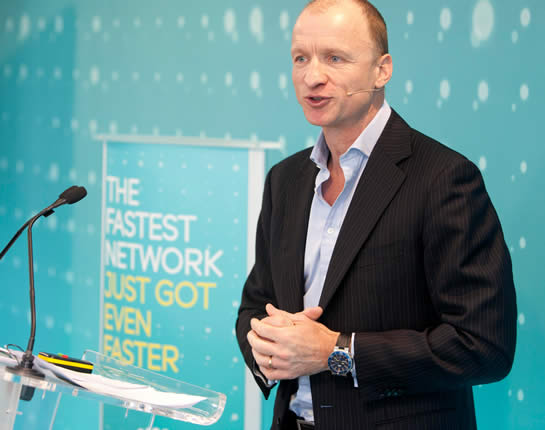 EE already has the best 4G coverage in the UK, but it's not stopping there. Next in its sights is LTE-A in London.
LTE-A (or LTE Advanced) is the next generation of 4G and it can bring theoretical speeds of up to 300Mbps, which is roughly ten times faster than the current average 4G speeds of 24-30Mbps.
EE has been testing LTE-A in London's Tech City for a while now, but during an interview for Mobile World Live at last months MWC, EE's CEO Olaf Swantee ( above) confirmed plans to extend the networks LTE-A coverage to the rest of London.
According to Swantee: "We will have 300mbps in London. First we will have the city centre covered, London south circular. That will probably be by the end of the summer."
Once that's done the network will focus on covering London in it's entirety, or more specifically the whole area within the M25.
So within the next six months or so London city centre could have blazing fast mobile internet, with the rest of the city hopefully soon to follow.
Swantee also spoke about the future of voice communications on the network, saying that EE would particularly focus on improving it in rural areas where it will be deploying spectrum from the 800 MHz band.
It's nice to see that EE hasn't forgotten about voice in its quest for 4G supremacy, as that's still a core part of the mobile experience and is still somewhat lacking in many rural locations. But its roll out of 4.5G in London could propel the network even further ahead of its rivals. EE might not be the cheapest 4G mobile network around but with ambitious plans like this there's a sense that you get what you pay for.
Looking to find out more about 4G?