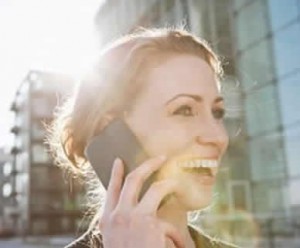 4G is mostly about data but that's not the only thing that it can benefit. Voice over LTE or VoLTE is exactly what it sounds, the ability to make phone calls over 4G.
Why would you want to do that? Well for one thing it supports enhanced audio quality for clearer calls, but it also makes it possible to increase voice coverage.
EE has announced that it's going to begin trialling VoLTE later this year and that latter point seems to be its main focus, as the network points out that the trial will expand data and voice coverage, bringing both services to previously unconnected parts of rural Oxfordshire.
This can be achieved because EE uses the 800MHz spectrum band for 4G, which has far greater reach than its 2G or 3G spectrum. A full commercial launch of VoLTE is planned for 2015, by which point EE intends to have brought 4G to over 90% of the UK population.
Fotis Karonis, CTO at EE, said: "4G calling, or VoLTE, is an exciting technology that we're going to be trialling in the coming months using our low frequency spectrum, bringing one of the world's best voice and data services to a part of rural Britain that has previously been unconnected. When we have rigorously tested the performance of 4G calling and made sure that it matches our 2G and 3G quality, we'll launch it nationwide on our 4G network."
Not only that, but EE is also working on Wi-Fi calling, which again is pretty self-explanatory, in that it allows customers to make and receive calls over Wi-Fi. However it doesn't require a separate app, so users will be able to call and text through their native dialler and SMS apps over Wi-Fi when the service launches this autumn.
It's a feature which could come in handy any time you can't get a normal signal but are somewhere with Wi-Fi, be that home, work or a public hotspot and by using the same apps as normal phone calls the experience is seamless.
This is all part of a larger investment in phone calls which has seen EE spend £275 million this year and the same last year. That money has also gone towards installing new equipment on over 6000 2G masts and doubling the capacity of over 2000 3G masts.
Read how the lucky Koreans have VoLTE now!