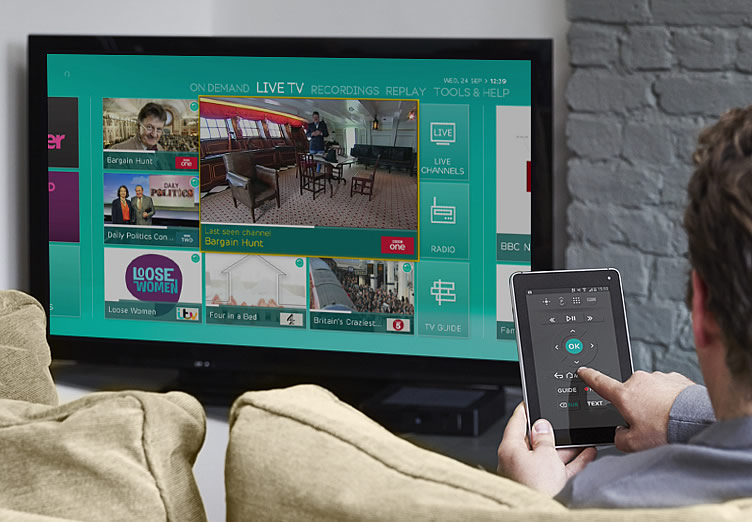 You might think of EE as just a mobile network but clearly the company wants to be seen as more than that and EE TV could certainly help.
The new service is essentially a set top box, giving users access to over 70 Freeview channels along with on-demand and catch-up channels, plus video apps such as Daily Motion, Wuaki.tv, YouTube, BBC iPlayer and Demand 5.
None of which is very different from many other set top boxes, but it goes further. For one thing it allows you to record up to four programmes at once, all of which can be stored on its 1TB hard drive.
That again is a feature offered by at least some rival services, but that's not all. It all supports multiscreen, allowing you to view content from it both on your main television and on up to three other devices, such as 4G phones or tablets, all at once. So four different people can watch four different things in four different rooms, all at the same time and all with just the one box.
Speaking of 4G phones and tablets, the whole interface is designed to be controlled with them. There's an EE TV app which allows users to navigate the programme guide and pick things to watch either on that device or the television. EE TV's interface is a lot like a smartphone too, as it's designed to be simple and intuitive.
There are other features as well, for example 'Replay' which allows you to watch anything that aired in the last 24 hours. This is in addition to the normal catch-up services. There are also parental controls for anyone with kids and EE promises that more services and features will be added over time, including the ability to use EE TV on the go over 4G.
Olaf Swantee, CEO, EE, said: "Today we're announcing the most advanced TV service the UK has ever seen. How, where and when people watch TV and movies is changing, and mobile technology is driving that change.
"As the UK's biggest and fastest network, with more than 25 million customers, we have unrivalled insight into people's changing viewing habits. It's helped us create a service that has mobile at its heart, and makes the TV experience more personal than ever before.
"With EE TV, not only can you watch different streams of live and recorded content, on multiple screens simultaneously, but your mobile becomes the remote. This gives each viewer the chance to watch, queue and view what they want, when they want. It's a completely new way to enjoy your favourite programmes, films and internet content."
EE TV is compatible with all UK digital televisions and it will be available from EE stores in the coming weeks. The EE TV box, which is apparently worth £300, will be free for EE's home broadband and landline customers, while mobile customers can get it from £9.95 per month plus £15.75 line rental.
If you're an existing mobile customer and you sign up for EE TV and home broadband then you'll also get a boost to your 4G allowance, bringing it up to either 10 or 20GB depending on your plan.
Find out more about EE TV here.