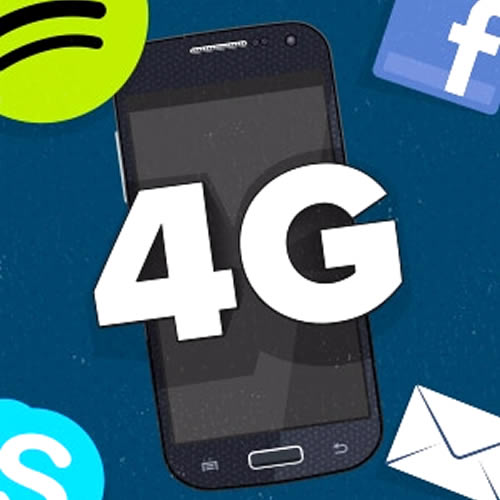 EE 4G vs Vodafone 4G vs O2 4G vs Three 4G
With three of the four major UK mobile operators now offering 4G it's safe to say that the superfast service has truly arrived. However the networks are far from evenly matched, so while making the right network choice could land you with super speed at super value, the wrong choice could land you with patchy coverage and high costs. With that in mind, here's a comprehensive review of 4G across the four networks.
1) 4G Coverage - currently
EE launched its 4G network late last year and now provides coverage to 120 towns and cities, making it far and away the market leader.
O2 and Vodafone both launched their 4G networks on the 28th of August. So far O2 has brought 4G to 8 cities while Vodafone has brought it to 7, leaving the two networks neck and neck but with a lot of catching up to do if they want to rival EE.
Three hasn't yet launched its 4G network. However it plans to roll it out on a small scale with a limited number of users to 4 cities in December. Note : This can be classed as a trial in our eyes.
Useful reading : 4G Networks in the UK
2) 4G Rollout Schedule - planned
EE hasn't given specifics of exactly where or when it will bring its 4G network to next, however the network has stated that it plans to provide coverage to 98% of the UK population by the end of 2014, so presumably most places that don't already have 4GEE will within just over a year.
O2 has stated that before the end of this year it will bring 4G to five more cities, but hasn't made any announcements beyond that other than to say that it aims to reach 98% of the UK population by the end of 2015- up to a year behind EE.
Vodafone aims to launch 4G in six more cities before the end of this year, which will keep it neck and neck with O2. As with O2, plans beyond the end of the year haven't been announced aside from a promise of 98% coverage by the end of 2015.
Three's 4G network should really start to take off next year, with 42 cities receiving coverage by the end of 2014. However there are 66 cities in the UK, so that still leaves a large chunk of the country that won't be covered by Three's 4G until 2015 or later.
3) 4G Speeds
EE claims that its standard 4G speeds are around five times faster than normal 3G. However the network is also working on upgrading sites to 'double speed' 4G, which is around 10 times as fast as 3G. So far 20 cities are enjoying double speed 4G.
Useful reading : What is Double Speed 4G?
O2 also claims to have 4G speeds that are around 5 times as fast as 3G, while Vodafone claims its 4G speeds are 6 times as fast as its 3G, however neither network yet offers double speed or anything similar, leaving them lagging behind EE in the speed stakes in a number of locations.
Three follows suit by also claiming its 4G speeds are roughly 5 times faster than 3G, however as the network hasn't launched its 4G service yet its speeds are effectively zero for now.
Useful reading : 4G-EE versus 3G – Speed Comparison Test
4) 4G Mobile Services
Each 4G network comes with a bunch of extras to try and tempt customers. EE gives customers 2-for-1 cinema tickets every Wednesday, while plans of £41 per month or more also include a subscription to Deezer, access to EE Mobile TV or two free game downloads each month.
Vodafone gives customers a choice of either Sky Sports Mobile TV or a Spotify Premium subscription and O2 offers O2 Tracks, which lets you download songs and stream videos. It also gives you access to Priority Sports (which contains exclusive sports videos), O2 Games, which lets you play online without eating into your data and discounts and vouchers through Priority Moments.
In other words O2 gives customers quite a few extras, but arguably they're not as useful or as good value for money as EE's or Vodafone's.
Three is yet to announce what if any extra services 4G customers will receive, however the network has stated that it will add 4G to its current plans at no extra cost, which is a pretty big bonus in itself.
5) 4G Mobile Costs
EE offers the widest range of 4G tariffs, ranging between 500MB of data for £26 a month and 20GB of data for £51 per month.
O2's 4G tariffs start at £22 per month for 1GB of data on a 24 month plan, however that doesn't include a handset, whereas EE's prices do. O2 has an extra offer whereby if you sign up before the 31st of October you'll receive 5GB for the price of 3GB or 8GB for the price of 5GB.
Vodafone has prices starting from £31 per month for 2GB of data, along with an extra 4GB of data for customers who sign up before October 31st. While the networks starting prices aren't as low as EE or O2, it presents better value for money overall.
Once Three launches its 4G network it looks set to offer even better value, as the network has promised to offer unlimited data and to not increase its prices. In fact if you're already on a 3G contract with Three, 4G will be added on automatically and at no extra cost.
6) Winners of the 4G Versus Battle
Every contest needs a winner and in this case the choice was easy.
First place: EE 4G
EE is so far out in front it's not even funny. It's the only network with coverage across a decent chunk of the UK and it even has double speed 4G.

Second place: Vodafone 4G
Vodafone might not have EE's coverage or speed but it gives customers good value for money and has a great choice of extras, such as Spotify Premium.
Third place: O2
O2 matches Vodafone for coverage, but its prices are higher and its extra services are worse, leaving it in third place.
Fourth Place: Three
Three has the potential to do great things with 4G, but right now it doesn't even have a live 4G network, leaving it inevitably in last place.