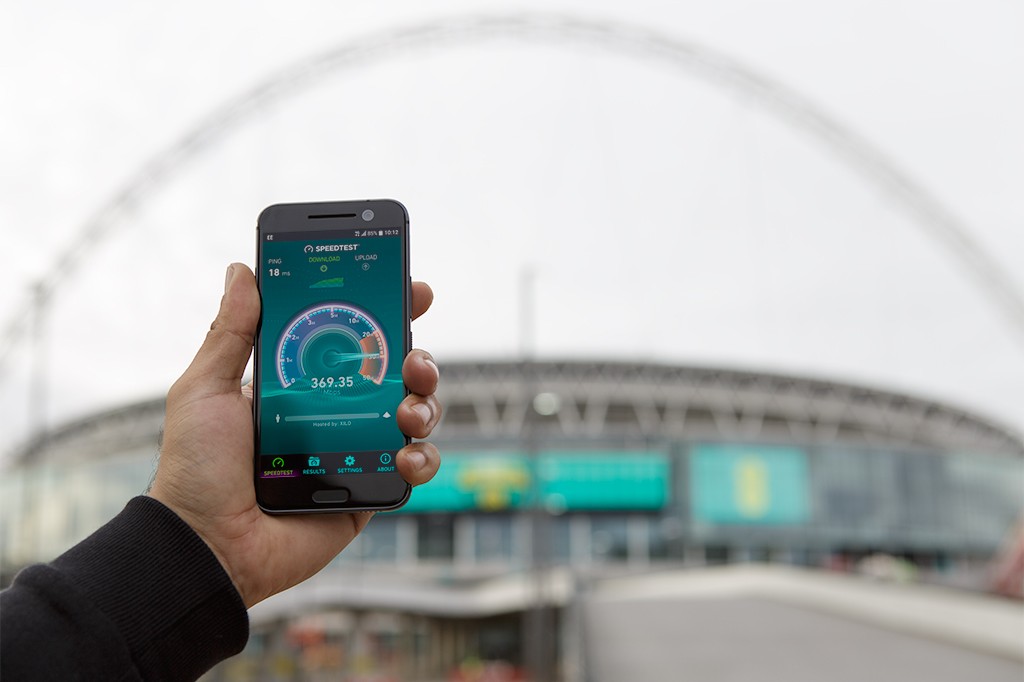 EE has always been the fastest 4G network in the UK, and now its top speeds are equal with the fastest in the world, as the network has just launched the next phase of its 4G network.
Until now the UK's fastest mobile data was available through EE's 4G+ service, which combined two blocks of mobile spectrum to achieve peak download speeds of 150Mbps.
But now the company is adding a third block of spectrum, so its network can make the most of new Cat 9 devices like the Samsung Galaxy S7, HTC 10 and Samsung Galaxy S7 Edge.
Browse Cat 9 devices on EE here
Cat 9 devices can theoretically reach speeds of up to 450Mbps using mobile data, and while that's only likely to happen in lab conditions EE has achieved a real world speed of 360Mbps – more than twice as fast as 4G+ - in Wembley Stadium, where its fastest network is now live.
That's far faster than any other UK network, so even if you have a Cat 9 device if you're not on EE you're not going to get these kinds of speeds.
Of course even on EE you need to be in an area where the network has enabled these speeds, which right now limits you to Wembley Stadium, but EE plans to activate the service across sites in central London later this year, starting with Tech City.
Throughout the rest of 2016 and 2017 EE plans to upgrade its network in parts of the UK's other busiest cities, such as Birmingham and Manchester, and by the end of 2017 its goal is to have over 500 sites offering Cat 9 capabilities in many of the 150 towns and cities that currently offer 4G+.
EE CEO Marc Allera said: "There's no point having the latest smartphones on a network that can't support the top speeds the device is capable of. We've invested in our network to ensure that all of our customers get the most out of the amazing smartphones they have, and can keep up with the highest speeds that the latest devices offer.
"With 4G+ now supporting Cat 9 devices, plus Wi-Fi Calling and 4G Calling, customers on EE will continue to get more from their new smartphone than on any other network in the UK."
This is a great move for owners of the newest smartphones, but EE is also continuing to roll out standard 4G. Already its 4G network covers over two thirds of the UK landmass, which is more than any other network, and EE is aiming for 95% coverage by 2020.