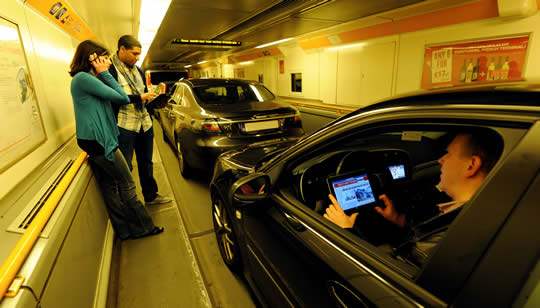 Not so long ago we wrote about EE's announcement that it had brought
4G to the Channel Tunnel
, following initial plans to launch it by the summer, but now O2, Vodafone and French network Bouygues Telecom have too.
From the 12th of December passengers have been able to enjoy 4G speeds delivered by these networks, when travelling in either direction, with coverage being provided to 100% of the route.
To make this possible the networks needed to install equipment 100m below sea level, but as a result passengers will now experience speeds that are up to 10 times faster than 3G, so they can stay in touch, stay entertained and keep working even while deep beneath the ocean.
Eurotunnel Chief Operating Officer, Michel Boudoussier stated: "This new service means we can offer our customers incredible connectivity and astonishing access to mobile services, bringing better information for passengers, allowing them to remain operational and make their journey a real opportunity to relax".
To mark the occasion and demonstrate the power of 4G a live concert by French group Archimède was broadcast on the BBC, as well as French channels LCI and France3 Nord-Pas-de-Calais from a shuttle travelling through the north tunnel at 140 km per hour on Friday 12th December.
The installation of 4G is a big move towards keeping the channel tunnel at the forefront of technology but mobile technology moves on rapidly, so hopefully in a year or two we'll be writing about its update to LTE-A.