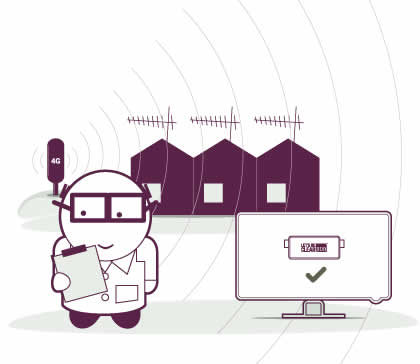 We here at 4G.co.uk might be a bit biased, but 4G is obviously great. That said, it can cause problems for viewers of Freeview TV, as Freeview uses a similar frequency to the 800 MHz 4G one.
But with the help of companies like Campbell & Kennedy (C&K) service disruptions should be short lived. The company has partnered with at800 to install filters in households and communal buildings affected by 4G across Scotland and Northern Ireland.
at800, which is the industry body tasked with ensuring viewers can continue to receive Freeview as 4G rolls out, will already provide the filters for free, so if you live in a private house and are comfortable installing it yourself then you can, but C&K are fully trained and approved by at800 to do the installation for you if you'd prefer.
Where they're really needed though is in communal buildings, such as blocks of flats, where although at800 will provide a filter free of charge, though only if the property manager registers for one, an approved engineer will be required to install it.
With C&K that will cost the property manager or landlord £150, but the company provides a complete service, from registering a building for them and supplying a filter to installing it at a time that suits them, whether they want it pre-emptively installed or would rather wait for residents to request the installation.
As the 4G roll out continues this is a problem that will be faced by communal buildings up and down the UK, so engaging the services of a company like C&K ahead of time will lead to a smooth transition.
at800 has committed to supplying filters and working with engineers to help that transition until one year after 98% of the UK population can receive 4G at 800 MHz and companies like C&K will be with them every step of the way.
Find out more about TV Interference from 4G.