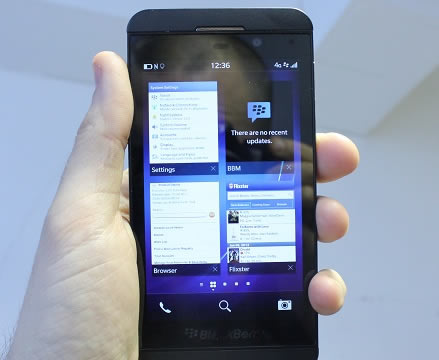 The latest BlackBerry 10 operating system arrived this month, along with two phones, the BlackBerry Z10 and BlackBerry Q10. We got hold of the 4G capable BlackBerry Z10 for a day, and here's what we thought.
First looks
BlackBerry has made a lot of this new OS, but as good as the software might be there's not much point if it isn't back up with a decent handset. The Z10 is also the first official BlackBerry 10, and with its high resolution screen and 4G connectivity it promises to be a decent contender.
Out of the box, our first thoughts were how hefty it feels in the hand. It's a good weight, enough to stay firmly on the palm, with grip added by the soft-touch back of the handset. Compared to the Apple iPhone 5 it is longer and thicker, and it is chunkier even than the Samsung Galaxy S III. Overall it is more akin in size to the LG Nexus 4.
The Z10 is the first 4G LTE handset from BlackBerry, which is great for blisteringly-fast connection speeds to the internet. And, if you've got a 4G contract the phone will be ready to start using that particular data connectivity as soon as you've got it connected. EE is the only network provider to do so at the moment, but other networks are looking at rolling this out soon, so it is a good bit of future proofing.
Looking the business
The straightforward design chosen by BlackBerry means no curvaceous lines or dashes of colour. The style is all black. The rim, top and bottom of the screen, are trimmed in plastic, and the rear is a mottled rubber. The overall effect is more business than must-have sexy. The 4.2inch screen is placed right in the middle of the handset, so there's a sizeable 2cm board at the top and bottom with around half a centimetre on the sides.
The power button is located on top of the BlackBerry Z10, right in the centre, which feels a bit odd to start with. After a while we were used to automatically hitting it when picking the phone up. Volume controls are on the right hand side, and there's a button in between for BlackBerry's Voice Control. This latter feature is BlackBerry's version of Siri and Galaxy. On the other side are ports for mini HDMI and Micro USB.
On the back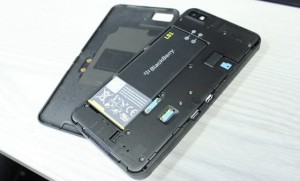 Slipping off the back panel is easy, and provides access to the removable battery, SIM card and Micro SD memory card slots. This last is good for extra storage, especially if you plan to make full use of its 4G connectivity. Once back in place, the back panel felt a bit loose. This isn't as robust as we'd like it to be.
In fact, even once it was in place, there appeared to be a little gap. We weren't about to test this out of course, but we weren't confident the back would stay on if the phone was dropped.
The operating system
Looking at the OS, as we've already done, is one thing. Finally getting to play with it in its natural environment on a phone is something else entirely. Set-up was easy, if a little time consuming setting up accounts like Gmail, Twitter etc.
Super smooth running
On the BlackBerry Z10 the BB10 OS runs smoothly, like Torvill and Dean sliding across the ice. Initially there were some delays in opening emails, and when the Hub updated. But after the first day this improved. Everything else just zipped along, with menus opening smoothly, and no waiting for any of the functions. Using the phone on 4G is also a fast experience. The smooth OS along with the superfast upload and download speeds meant browsing the web was extra zippy. Pages load up near instantly.
Swiping around
More used to Android and iOS, it took a little time to learn BB10s layout, and the way it uses swipe gestures. For example, returning to the Home Screen requires a swipe upwards from the bottom of the screen instead of pushing a button.
On the Home Screen you get the last eight apps accessed. A swipe to the left shows all app icons, which can be arranged in your preferred order. Like the Apple iOS, these icons flicker as you move them around.
A swipe to the right reveals something new, the BlackBerry Hub. This neatly presents all notifications – emails, Facebook, and so forth – in one place organised by date. Here you can search for specific posts, and create Tweets or Facebook updates, etc. However the apps have to be loaded to do anything else, such as looking up contacts or your profile. You do have control over which accounts are presented.
BB10 keyboard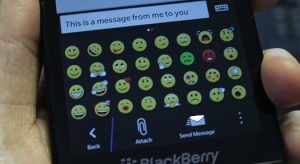 Rich with features, the BB10 keyboard is interesting in its own right. Nicely laid out, there's plenty of shortcuts. For instance, hold the spacebar down and the keys will be hidden.
BB10's predictive text appears as words above the next key you're likely to hit. Type 'hap' and 'happy' will appear above the P key, for example. A flick upwards from that key causes the whole word to be written in your message.
A handy feature for slower typists it wasn't one we needed, and so didn't use. However, it's one example of BlackBerry working its own way out for doing things, instead of just using the same methods as everyone else.
By your voice command
As with Siri and Samsung's Galaxy Voice, BlackBerry's Voice command will open up apps, and start the main features. By speaking slowly, and enunciating each syllable, BlackBerry coped well with our Northern accents.
It didn't start well though. We were using the wrong commands. For example, to pen camera you have to say 'Open camera'. Saying 'Open the camera' won't get you anwhere. Likewise, asking it to 'send a text to John Smith' will leave you waiting a long time. You have to shout a brusque 'text John Smith'.
Our experience is that most people don't use these voice services, beyond seeing if there's any rude words it'll understand. At least Siri has personality, something BlackBerry Voice lacks.
Battery power
We only had 24 hours to play with this phone, but battery life seemed good. After 19 and a half hours there was still 10% left. And we'd done a lot of messing about on the phone, and this included using it on 4G as well. Streaming a bit of media, which is hard to resist when you've got fast 4G speed to play with, can really drain a battery.
It will take a while longer to see how well the battery will perform, and we didn't have the time to do our usual tests. But once we've done them, rest assured we'll give you the full run down.