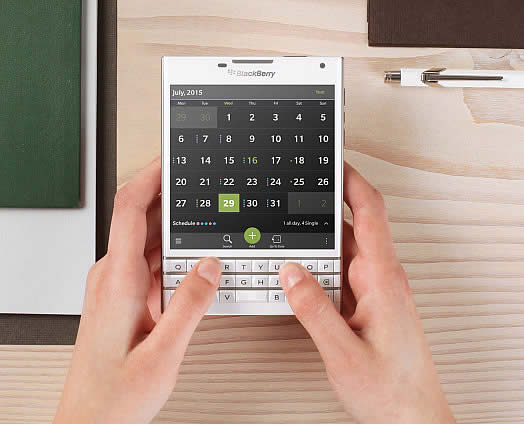 With the Passport, BlackBerry is getting back to what it knows best- business phones. But this isn't just a successor to the Q10, it's a completely new thing with a surprising shape and some innovative features. Read on for all the details.
Screen
The BlackBerry Passport looks rather different to any other BlackBerry handset and enormously different to most non-BlackBerry phones. The main reason for that is its square screen.
Why is it square? Any number of reasons. For one thing it's the perfect shape to read and edit documents on, research things online and even compose emails. We may be used to rectangular phone screens but they've evolved that way with media in mind, rather than work and reading web pages and books.
So with a square screen the BlackBerry Passport is instantly better equipped to work from than most other smartphones. It's a good screen too, coming in at 4.5 inches with a resolution of 1440 x 1440 and a pixel density of 453 pixels per inch, so you won't have to squint at low resolution text.
But that's only one of the reasons that it's square, the other big reason is that like any good business phone it has a physical keyboard under the screen. With a rectangular screen you may often feel the need to flip the phone into landscape, thereby rendering the keyboard unusable, but with a square screen there's never any need to rotate it, so you can always use the keyboard and never feel hampered by the screen orientation.
Design
There's more to the design of the BlackBerry Passport than just its square screen. It's built to be a premium, high end device, but eye-catching shape aside it's understated and smart. It has a metal frame and comes in dependable black and white colours.
It's designed to be comfortable to hold and easy to grip as well, so it can stand up to extended use, which could be particularly handy if you need to get things done during a lengthy commute.
Keyboard
The keyboard is especially worthy of mention. Obviously any phone with a keyboard is likely to be more suited to work than one without and in the case of the Passport there's a touchscreen as well, so you can use either or both, depending on the task.
But a lot of thought has gone into the design of the keyboard. There aren't any numbers or alternative function keys on it, which means it's spacious and easy to use, so you can type a whole lot faster without making mistakes.
If and when you need anything other than a letter the relevant possibilities will appear on screen, but you'll only be shown characters that you can actually use, so for example if you're typing in your email address or a password you won't be shown symbols that aren't allowed.
It's clever too, with touch sensitive gestures allowing it to better simulate an on-screen keyboard. For example you can still get word predictions which will appear on-screen, but rather than having to move off the keyboard and tap them, you can just swipe up across the keys to select them, which again makes typing fast and fluid.
Beyond all that it's just every bit as well built as the device it's a part of, with keys that depress smoothly, rather than the creaky ones found on some handsets.
Specs
Make no mistake, this is a high end phone, with a quad-core Snapdragon 800 processor and 3GB of RAM keeping it running smoothly. It supports 4G LTE so you can keep browsing and emailing and even stay in touch with colleagues and family through video calls when on the move.
It also has NFC, Bluetooth 4.0 and with 32GB of storage plus a microSD card slot with support for cards of up to 64GB you should be able to store all your important files and documents on it.
It should keep on running all day and beyond too, thanks to a 3450 mAh battery, so you can depend on it if you're out on the road or have a long day at the office and forget your charger.
Finally, while the camera certainly isn't a priority for this phone, it's equipped with both front and rear facing snappers, so you can both take photos and videos with it in a pinch.
Software and features
The BlackBerry Passport runs BlackBerry 10.1, which is a relatively recent update to the latest BlackBerry operating system and is well equipped for business users, thanks to features like BlackBerry Hub, which helps you manage all your conversations and emails from one place, BlackBerry Maps, so you'll never waste time getting lost and a browser with flash support, unlimited tabs and the ability to remove clutter from pages so you can focus on just what you want to read.
There are all sorts of other features and tools as well, which will be familiar if you're coming from another recent BlackBerry device. And because BlackBerry phones are made for business you can rest assured that your data is kept secure, thanks to encryption tools and other security options.