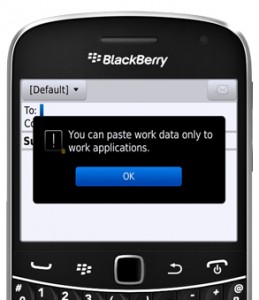 EE have been making a lot of waves lately with their 4G service - the first of its kind in the UK and one which is growing rapidly. But that's not all they're up to as they've recently racked up another first, specifically being the first company in the UK to support BlackBerry Enterprise Service 10.
It's an 'end-to-end multi-platform enterprise mobility management solution' which is a bit of a mouthful to say the least, but basically it combines security features with mobile device and application management.
There are several aspects to it, from device management which allows you to control multiple devices from a single management console, to 'BlackBerry Balance' which creates two different 'Spaces' on a BlackBerry 10 smartphone - a Work Space and a Personal Space. This enables users to keep the two aspects of their lives separate and secure on a single device.
BlackBerry Enterprise Service 10 also includes a full range of security features and the ability to create a personalised app storefront, which can limit which apps are available for the Work Space and even push mandatory ones straight to the device while still allowing users to install whatever they want on the Personal Space.
The service is available now to all of EE's corporate and public sector business customers, with prices starting at £15 per month (excluding VAT) for a 1GB data allowance on a 24 month plan. All BlackBerry Enterprise Service 10 price plans also include server software, user licenses and dedicated BlackBerry support from EE at no extra cost. Additionally you can add 4GEE to go alongside BlackBerry Enterprise Service 10 from an extra £3 per month.
As you've probably guessed this is all very BlackBerry 10 focussed, however the mobile device management services are also supported on iOS and Android devices as well as BlackBerry PlayBook tablets.
Being the first to offer this is a significant achievement for EE and gives business users a compelling reason to choose them over Vodafone, O2 or Three. Max Taylor, Director of Business at EE summed it up when he said: "Now businesses can get BlackBerry's industry-leading security and mobility management solution on the UK's best and fastest network. Alongside our Secure Mobility management software, the introduction of BlackBerry Enterprise Service 10 means we are the only network operator to offer enterprise-grade security across all mobile operating systems, covering 3G and 4G devices."
BlackBerry seems happy with the partnership too, as Rob Orr, Managing Director for BlackBerry in the UK and Ireland stated: "BlackBerry Enterprise Service 10 builds on our decade long leadership in the mobile enterprise space with a unique end-to-end, multi-platform enterprise mobility management solution. Our BlackBerry  Z10 customers on EE can already take advantage of the nation's fastest mobile network, and we're delighted that the network's enterprise customers will now be able to avail of a mobile enterprise solution that blends unrivalled security with maximum usability." 
EE were already in a strong position with a live 4G network and more network capacity than any other UK operator, but this partnership with BlackBerry is sure to make them even stronger.