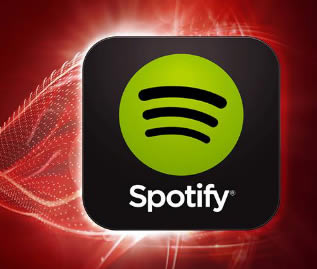 Benefits of Using Spotify Premium on Vodafone 4G
If you haven't used Spotify before there's never been a better time. It gives you instant and unlimited access to over 20 million songs, covering new and old across every genre imaginable. It's a streaming service so you don't need to worry about finding a room sized hard drive to fit all that music on and like any good player you can create playlists to keep track of your favourite songs.
That's all available free of charge on a computer, but using it on mobile requires a Spotify Premium subscription, which would normally cost you £9.99 per month. Not so with Vodafone 4G, which gives you free access to Spotify Premium for 6 months with a 2GB 4G tariff or for a whole 2 years with a 4GB or 8GB 4G tariff.
The mobile service gives you full access to Spotify's music library from your phone and you can listen to songs over 3G or 4G, so even when you're out and about you never need to be away from your music. That will of course eat into your data limit but Vodafone has thought of that too, as the network is generously giving customers a choice of 2, 4 or 8GB of data each month, along with unlimited data for the first 3 months and an extra 4GB of data for customers who sign up before 31st October.
All that data will go a long way towards freeing your music collection. Vodafone claims that with just a 2GB allowance you'd be able to listen to Daft Punk's 'Get Lucky' 853 times, while a 4GB allowance would let you stream it 1,705 times and an 8GB allowance would let you hear it 3,410 times, which is probably almost as many times as you'd hear it if you spent the day listening to the radio.
Of course this is 4G we're talking about, so it's fast too. While a 3G connection of 3-6 Mbps would have to spend up to 5 seconds buffering each song, Vodafone's 4G connection (which in early RootMetrics tests averaged download speeds of 20.8 Mbps in London), would spend well below 1 second buffering each song. It would be almost imperceptible in other words, making long playlists seem continuous and seamless.
If you ever do run short of data or find yourself without a 4G connection you can always still use the mobile Spotify app on Wi-Fi and you can even download songs to listen to later, ensuring that you never have to be without your music.
With extra features such as curated playlists, apps which add additional functionality to the service when used on a computer and the ability to share songs and playlists with friends, Spotify really has thought of everything.
All in all a Spotify Premium subscription with Vodafone 4G is not only great value for money but a perfect partnership, giving you not only the music but the tools needed to enjoy it wherever and whenever.
You may also like : iPhone 5C – Trade In Your Touchscreen Phone and Save £120