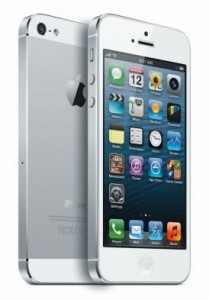 The powers to be over at Time Magazine have awarded the crown of Gadget of the Year to Apple's iPhone 5. 4G.co.uk are not totally surprised at this having conducted our iPhone 5 Review when we summarised "There is no question at all that the iPhone 5 is the best ever iPhone".
Time Magazine focus on the fact that the iPhone 5 is  "one of the most artfully polished gadgets anyone's ever built" and also praised its impressive camera, larger touch screen and thinner lighter case.
4G.co.uk also feel that the addition of 4G connectivity to the iPhone 5 helped Apple to land Time Magazine's Gadget of the Year award for 2012. The magazine also commented that ""there are lots of nifty smartphones out there, including the iPhone's impressive arch-rival, Samsung's Galaxy S3".
The top 10 best gadgets of 2012 also included the "Samsung Galaxy Note 2" at No 8  and would you believe that 4G.co.uk has today posted its "Samsung Galaxy Note 2 LTE Review" when we concluded "This is a good upgrade on the Samsung Galaxy Note 2 LTE. The 4G support is well suited to this phone, especially the powerful processor and the 5.5-inch display".
Another surprise may be that Microsoft's Surface RT was the only tablet to be listed in the top 10 ( No 7 ) but this is not a surprise to 4G.co.uk as this is without doubt a leading contender in the tablet marketplace.
The full top 10 for Gadget of the Year follows :
1 - Apple iPhone 5
2 - Nintendo Wii U
3 - Sony Cyber-shot RX100
4 - Raspberry Pi Model B
5 - Lytro
6 - Apple 15-inch MacBook Pro with Retina display
7 - Microsoft Surface with Windows RT
8 -  Galaxy Note 2
9 - Nest
10 - Simple TV